17 Best Jewelry Boxes and Organizers 2023
16 min read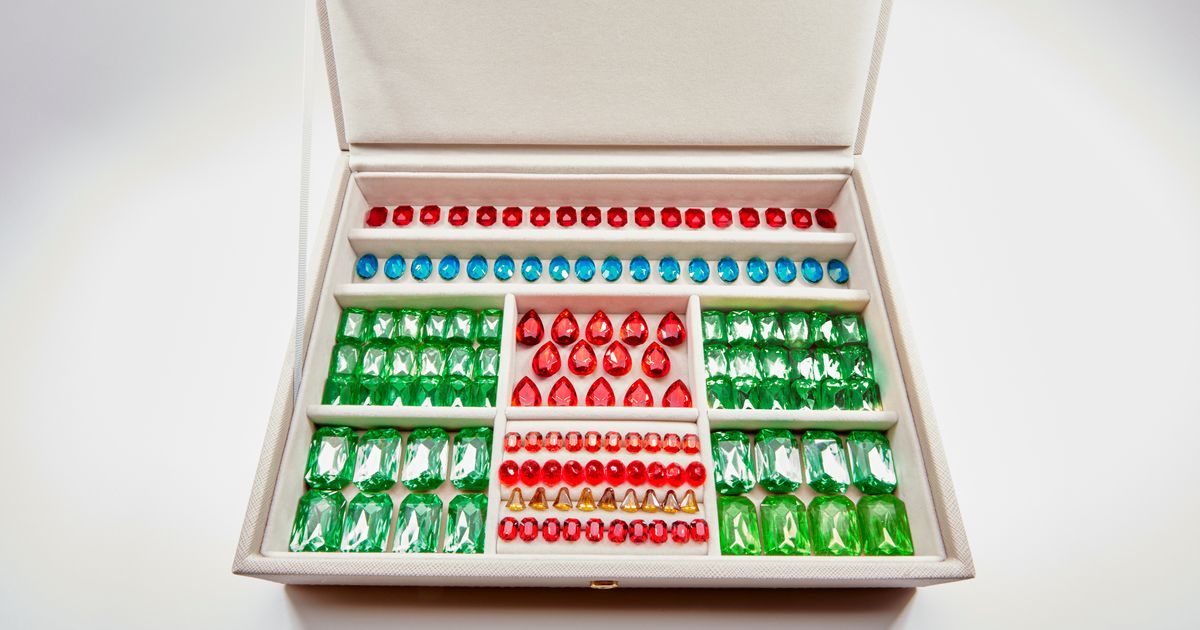 If there's one thing I've learned in my decade of jewelry collecting, it's that you need some sort of storage solution to avoid scuffed-up gold, shattered stones, tangled chains, and peeling pearls. This becomes even more crucial the more pieces you have, as the potential for damage — and the chance of one-half of a pair going missing — increases.
That's why serious collectors make up their own strategies to separate their holy grails (like a vintage Christian Lacroix cross choker) from everyday essentials (the Mejuris, Missomas, Ana Luisas & Co.). I keep most of my jewelry — 200 pieces and counting — on a three-tiered stand, in several trinket trays, and in a mini curio cabinet. This helps me know, say, the precise location of special-occasion shrimp earrings (a gilded tabletop tray next to a checkered cocktail ring). But there are those who prefer the "all in one place" direction (think of celebs' jewelry "islands," as seen on their closet tours). Whichever setup works best for you will largely depend on what you have. Take stock of your jewelry first, and then check out the boxes, trays, and catchalls listed below, which have been recommended to us by jewelry designers, professional organizers, and me, an obsessive collector.
Jewelry organizers fall into two categories: open storage (stands, catchalls, trays) and closed storage (boxes, drawers, cases). The general guidance is that the finer the jewelry, the more careful you want to be.
Pieces with semiprecious stones or precious metals (silver, especially) should be stored in a soft, lined box (velvet is popular). Costume jewelry is a little more forgiving, so it can be left out in the open. Two caveats, though: (1) Beware of dust bunnies, and (2) keep stones away from the sun, as shine fades. Use small catchall trays and dishes as resting places for rings and anything you put on and take off frequently. A jewelry stand — usually meant for bracelets and necklaces — prevents tangles and knots.
Then there's the presentation to consider. "Storage is really about compliance," explains Ope Omojola, founder of Octave Jewelry. "If there's a really amazing piece of storage that is perfect and works really well in the abstract, but you're never going to use it or you hate how it looks, then it's not for you." There's an argument for clear organizers to get a glimpse of everything you own, but these can feel a little crafty — a see-through lid might be more than enough to help you keep track of your most-worn pieces. Meanwhile, an attached mirror makes trying on easy, like you're sitting at a jeweler's counter.
We've covered the exterior, but the interior's just as important. Sure, you can do what Jennifer Behr, founder of an eponymous accessories line, does: Keep pieces that are fine or demi-fine in the boxes they came in and tape a small picture of the contents to the outside to know what's what. Or follow Jill Martinelli of Lady Grey's example: She stores her treasures individually in tiny plastic bags. But the best jewelry organizers will do this job for you with different compartments, tiers, rows, and partitions — the goal is to have each piece in its own place. As we considered which of the below organizers deserved which titles, a well-designed interior is what separated the ones that earned the top spot. For each pick, we made sure to mention if the organizer has earring slots, necklace hooks, sections for bracelets, and so on.
For practicality's sake, a jewelry organizer should be able to hold a lot without taking up a whole lot of space. Here's where I have to confess that I'm anti-armoire. They seem smart in theory, but the problem is that they're full-on pieces of furniture, meaning an armoire is hard to move around (and even harder to match with the rest of your furnishings). Instead, I prefer to free up floor space with a wider, wall-mounted organizer. Also take into consideration that the top of your dresser might need rearranging if you choose a box, while catchalls can sit on top of almost anything. To help you choose between our picks, we included the measurements for all the organizers on this list.
Design: Box | Division of storage space: Stackable trays with different-size compartments | Size: Starting at 9.88" x 7.25" x 1.75"
Stackers took the "best in class" blue ribbon after earning the most mentions from our experts. Its modular, stackable system works "whether you're a minimalist or maximalist," explains professional organizer Britnee Tanner, who appreciates that you can add trays as you need them. There's a range within the trays, too — one is designed specifically to separate charms for a bracelet, and another is divided into 25 square-cut sections. I tried one of them, the $33 "Classic Lidded Box," which is so spacious that I actually lost count of the number of gems in there. (Important: You can fully unfurl bracelets in the two topmost compartments of that tray — which I could never do before.) It serves as a backdrop so that the jewels literally shine. Heidi Lee of home-organization service Prune + Pare likes the visibility you get by unstacking the trays and laying them side by side (so you'll know exactly where that heirloom brooch is hiding). Strategist senior writer Liza Corsillo also praised hers in a Strat Haul — when I asked her about it again, she confessed that she's considering buying a fourth tray. "I wanted a real adult jewelry box. This is exactly that," Corsillo explains.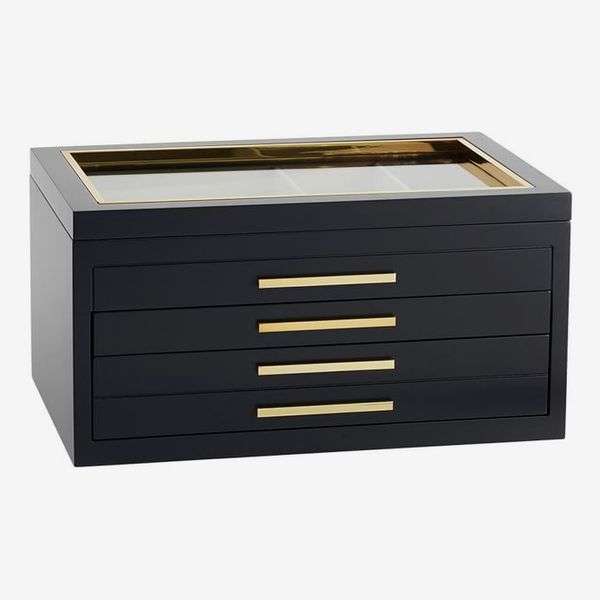 Design: Box | Division of storage space: Four trays with compartments in each | Size: From 15" x 10" x 7.5"
Most of our panel recommended boxes over other styles of organizers. One of them is Jessica Tse, founder of NOTTE, who keeps her jewels in this modest box from CB2 that "doubles as home décor [since] it looks like a beautiful marble block on my table." Another box believer is Tina Xu, the designer behind I'MMANY. Xu uses something similar to this acrylic box from Amazon with a lining that's "really kind to gold, silver jewelry, or jewelry made from natural stones."
But the box that won out was Pottery Barn's Stella. It has the most traditional look of any of the recommendations we heard about. There are two sizes to choose from: The large features four drawers and a top tray with three compartments and a separate ring holder. The even larger "ultimate" size opens up to reveal a mirror and additional compartments hidden underneath the lid. Juliana Ramirez, former brand manager at Lizzie Fortunato who now works at Loeffler Randall, points out that the velvet-lined drawers make finding and caring for her pieces much easier. "My days of awkwardly sifting through a ton of clunky dust bags are officially over," she explains. The construction is another reason the box is a favorite. It's sturdy, spacious, and durable enough for her ever-expanding collection. The box comes in white, too.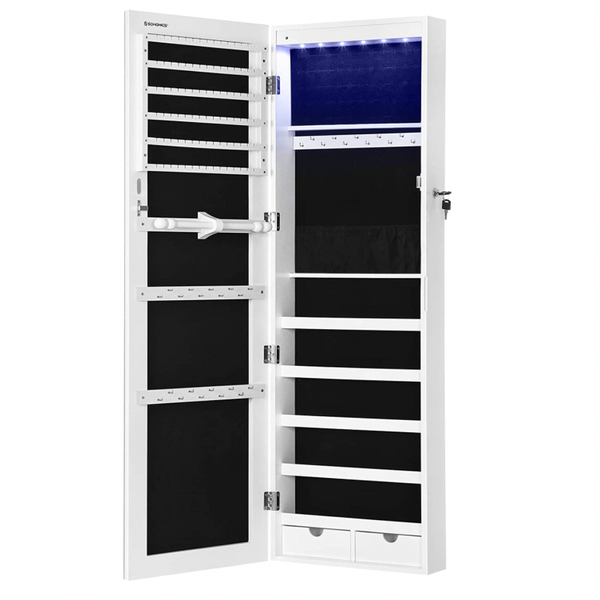 Design: Cabinet, wall-mountable | Division of storage space: 84 ring slots, 32 necklace hooks, 48 stud holes, 90 earrings slots | Size: 14.49" x 3.94" x 47.24"
This Songmics cabinet, which we heard about from two designers, comes with all the trappings: a mirrored front that doubles as a full-length mirror, LED lights on one side, shelves that aren't just for jewelry, and a lock with keys. (All of the above even made me briefly reconsider my anti-armoire stance.) Christina Tung of SVNR once belonged to the ceramic-dish camp of jewelry organization, but says this has become the most "functional, practical option that feels really organized," especially compared to having catchalls lying around all over. Another advantage? It helps Tung rein in her collection: "That's my new rule for things — if it doesn't fit in the organization system that I put together, then I know I have too much." Martinelli is another convert, arranging her Songmics cabinet using a "like with like" system. Statement earrings stay together, as do studs. The effect is "like an Excel spreadsheet with alternating shaded rows" that make it easier to play dress-up. It's probably best-suited for larger collections, but has enough room that it will allow you to add new pieces. And you can hang the cabinet on the back of a door (the hooks to do so are included) or mount it on a wall (with the optional screws).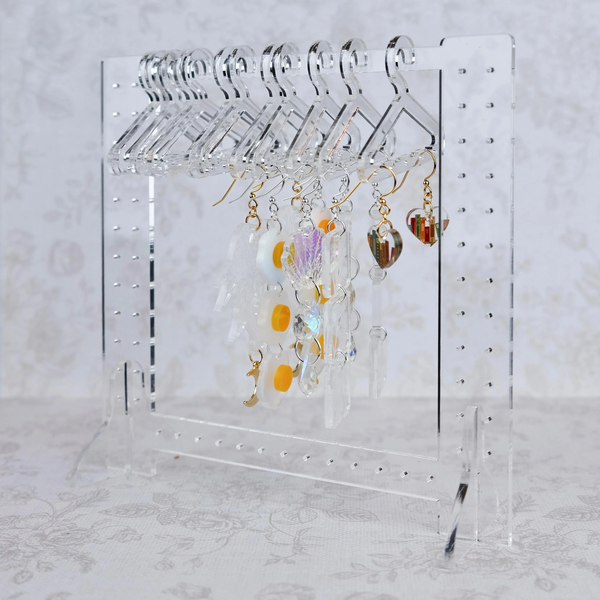 Design: Rack with hangers | Division of storage space: 12 hangers that each hold 1–4 pairs, 51 stud holes on the frame | Size: 6.5" x 6"
Since Strategist writer Kitty Guo first wrote about her earring stand in a Strat Haul, the original design has evolved (Kikay, the Los Angeles–based brand behind the rack, introduced it back in 2021) with the biggest difference being the addition to 51 stud holes on the frame so it holds more pairs. But the (arguably) most functional feature has stayed the same: those miniature hangers, which can each hold between one and four hook or hoop earrings. "The hangers have little notches to keep the earring from sliding around," Guo explains. Hers can be a little wobbly — though the company designed the 2.0 version to be sturdier in its structure. And the adorable factor is part of the appeal: Guo browses through the hangers (the Clueless computer-closet scene comes to mind) like she does her wardrobe.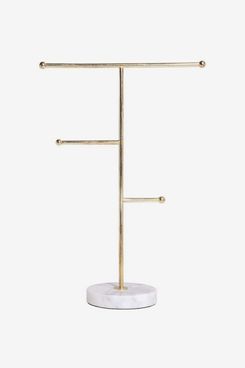 Design: T-bar stand | Division of storage space: Three separate bars | Size: 8" x 7.2"
Of all the pieces in a jewelry collection, necklaces are the trickiest to organize. Laid out, they often get tangled up by themselves or with other chains. Your best bet is a dedicated stand. Jewelry designer Melinda Maria uses this one, switching out necklaces in her current rotation. It's an affordable alternative to some of the other stands out there, with room for bracelets, watches, and earrings with hooked backs. There are three tricks to know about these types of holders: (1) Space out necklaces to prevent tie-ups; (2) keep your most-worn pieces on the ends for an easy out; and (3) don't keep all your heavy, statement-making treasures on one row, as there's more of a chance the entire holder will topple over. These can get dusty, so you'll want to wipe them down occasionally with a microfiber cloth (using strong cleaners can damage the jewelry and the holder).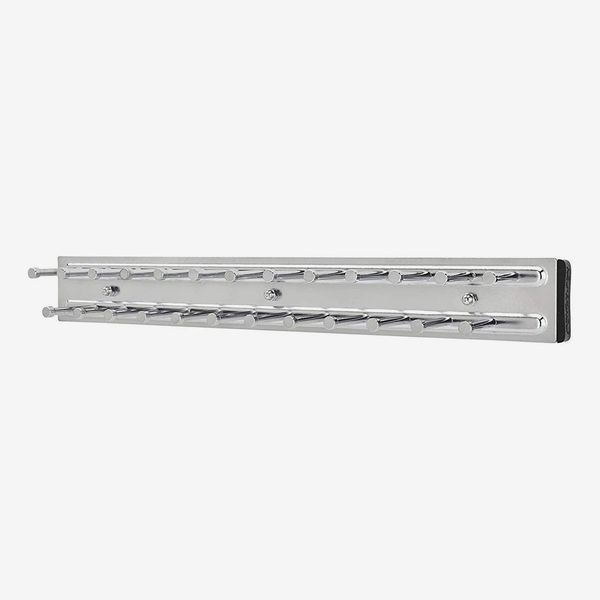 Design: Hanger | Division of storage space: 25 hooks | Size: 14" x 2.5" x 1.88"
This Rev-a-Shelf solution is a rather unconventional organizer — designed for ties and scarves — but Corinne Morahan, founder of Grid + Glam, recommends it for holding necklaces. The expandable and mountable rack can hang inside a closet, sliding out to reveal 25 hooks. "The pegs are spaced out enough that you don't have to worry about [chains] tangling," Morahan promises. Unlike a necklace stand for a dresser top, which sometimes doesn't leave enough vertical clearance if you like the layered look or long pendants, this rack lets them hang without any interference — and you won't have to "take other necklaces off to get the one you want," she says.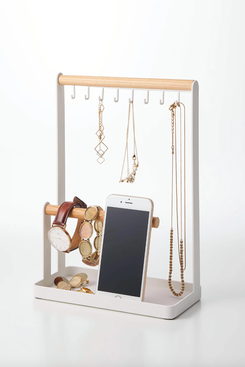 Design: Stand | Division of storage space: Eight hooks with bottom bar and tray | Size: 4.13 x 7.87 x 11.22
Tanner pointed us toward this jewelry display stand from Japanese homeware company Yamazaki. It's clean and modern, made from a combination of steel and wood. This makes it feel slightly superior to the usual acrylic, she says. There are two bars on the stand, and the top one has eight evenly spaced hooks. Tanner likes that there's a designated number so you know exactly how many pieces you can fit. The bar beneath can hold bracelets and watches while the tray accommodates frequently worn earrings and rings.
Design: Holder | Division of storage space: Each finger acts as a ring dish center | Size: 3.5" x 2.68" x 8.89"
I can't go a day without wearing at least one ring on each hand — I choose the rings before I pick out my underwear in the morning. A ring dish doesn't do it for me, as bands tend to end up in a never-ending heap. This ceramic hand, however, is the perfect place to store the rings I wear most. I stack the smallest first on each finger, working my way to the more statement rings on top. This helps me fit as many rings as possible. I have around 15 on the holder right now, and it's easy to slide them on and off. Besides rings, you can add a couple of bracelets to the "wrist" of the holder — but with the pretty, painted-on flower design, I like to leave it bare.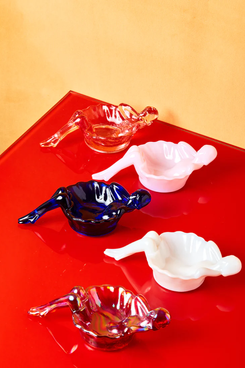 Design: Dish | Division of storage space: Shell-shaped single compartment | Size: 9" x 5" x 3"
Though this Bathing Beauty, from Ohio-based glassware maker Mosser Glass, is billed as a soap or sponge holder, I find that it does the jewelry-storing job well. (A note: Jewelry dishes tend to be more bowl-ish than trays, as you'll see as you read on — though the terms are often used interchangeably.) So well, in fact, that I own two of them. The shell-shaped middle offers more room than you think — I have a number of chokers, bangles, and earrings in mine. For earrings with fish hooks (specific to drop or dangle pairs), you can hang the backs on the scalloped edge so you can easily find your favorite pair. However, since there are no interior dividers, you're better off keeping more delicate pieces that tangle quickly off the dish.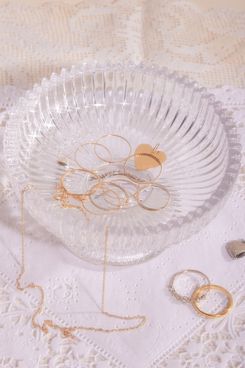 Design: Dish | Division of storage space: Circle for a single compartment | Size: 4" x 4" x 2"
Similarly, this dish might be meant for ice cream scoops, but it makes an excellent jewelry holder. As it's under $10, I didn't feel guilty buying multiples — one for myself and another as a present. I use mine to hold jewelry with a celestial theme: It currently contains a necklace with a giant comet at the center, a trio of moon-decorated earrings, star-shaped jeweled hairpins, and more, with space to spare. The high sides keep what's inside safe, and the center is pretty deep. And though it's a super-small feature, I like that I can grab the dish by the base like a goblet if I want to move it around.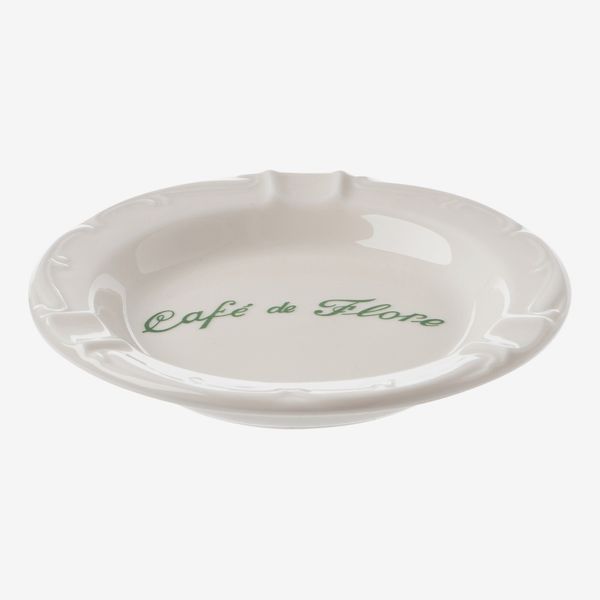 Design: Tray | Division of storage space: Circle for a single compartment | Size: No measurements listed
It's hard to crown one jewelry tray the best over others since each is essentially a glorified plate. I have invested a small fortune in them, as I like having several around for my ever-expanding jewelry collection. One of my favorites is actually an ashtray from Casa Carta that I received as a gift years ago. But since my Casa Carta option is a bit of a splurge for what it is, I decided to give jewelry designer Erica Weiner's recommendation an official place on this list. Her dresser holds "an array of antique ashtrays" including ones she … let's say borrowed from restaurants she's dined at while traveling. One of her favorites is from the famed (and celebrity-frequented) Café de Flore. "Turns out if you're not drunk and emboldened to steal, you can buy one," she explains. It acts as a "landing pad" for the pieces she reaches for everyday: "It's so useful because I don't have to open a drawer or a lid, unlock a safe, or unzip a bag. I just dump it there." She adds: "I'm lazy and must see the jewelry to wear the jewelry." (Weiner also approves of this decoupage tray from John Derian, where she keeps a gold-in-quartz watch chain with a horseshoe-shaped locket, a "Cleopatra-ish" turquoise collar, Georgian-era ouroboros hoops, and a beaded necklace made by her 4-year-old).
[Editors' note: Café de Flore lists its prices in euros, so this is an approximation in U.S. dollars.]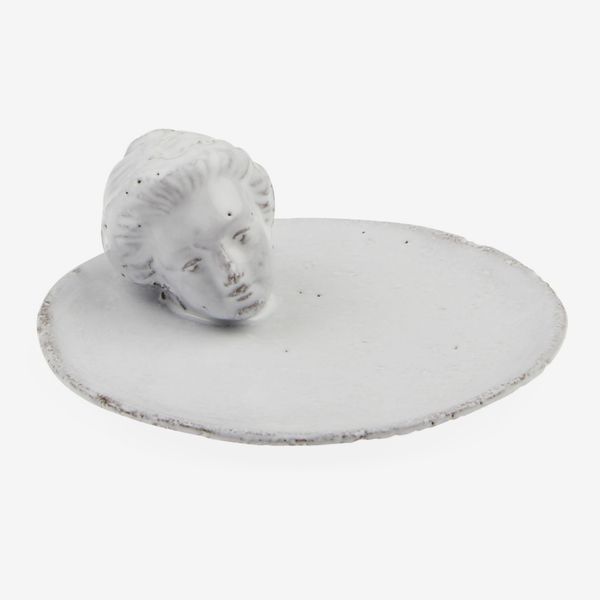 Design: Tray | Division of storage space: Circle for a single compartment | Size: 4" x 4" x 1.25"
I always meant to use this incense burner as a trinket tray, because it feels way too indulgent for actually burning incense. (Seriously, it features Marie Antoinette's head and is made by the artisans at French ceramic-maker Astier de Villatte.) It's become the place for my most favorite pieces that also happen to be my tiniest, like these pearl studs. It's surprisingly sturdy — I have accidentally knocked it over before and it hasn't suffered so much as a crack. I like that it doesn't have raised edges (compared to a traditional tray like this one), making it more of a display platform than a container. Plus it's really an objet d'art — "witty, wistful, and ghoulish" are the words used to describe it on Catbird's site — which eases the almost-$100 price tag a tad. (I might have convinced Weiner to buy it for herself, too.)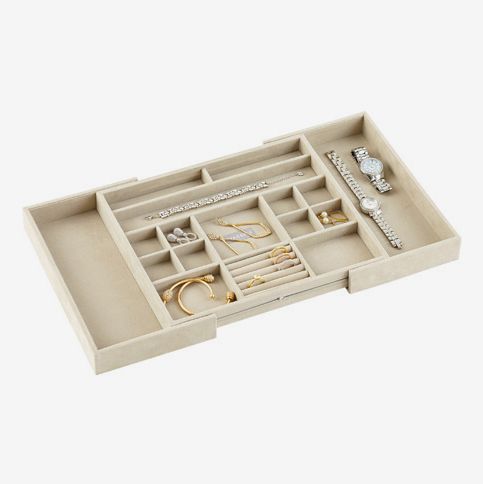 Design: Tray | Division of storage space: 14 different-size compartments with a separate ring section | Size: 12" (expands to 18.75") x 10.25" x 1.5"
The winner of this title was a toss-up between this Stackers tray and a similar one by Vlando. Ultimately, Stackers took the spot because it's low-profile with an adjustable width, making it fit into a dresser drawer more easily. Omojola uses hers in a desk drawer, where she can place the trays on top of one another (unstacking as necessary) and expand the sides for a secure fit. "I'm a really visual thinker and I have to see everything laid out," she says, explaining that she'd rather have "as much of [her] jewelry as possible visible so that when I'm getting dressed and picking out jewelry, it's right there." You can stack one on top of another for a jewelry-box effect. On the other hand, Maria uses the aforementioned Vlando tray, which comes in a set of four. The top tray has a detachable clear lid that doubles as protection. "When you're running out the door, the last thing you want to do is try to find a piece of jewelry," she says.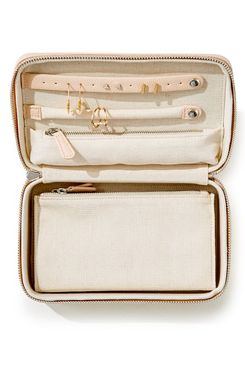 Design: Case (boxed design) | Division of storage space: Tabs for earrings, pouch for bracelets, looped clips for necklaces | Size: 8.25" x 4.75" x 2.5"
The problem with most travel jewelry cases is that everything ends up tossed around in your luggage.This Mark & Graham case seems to have solved that. Our experts told us that you want a case with a harder shell and some sort of soft lining to prevent pieces from getting crushed and scratched. Maria travels with this structured case, which has a number of different compartments that are specific to the type of jewelry you're bringing. You can store necklaces on three hooks, and there are pouches to keep pendants in place. There's a tab for studs and a bar for hoops. It can hold a lot, but is "compact enough to throw in your carry-on," Maria says. That's preferable to packing jewelry in your checked luggage if you're bringing expensive or irreplaceable pieces. (If you're traveling extra light, this smaller pouch comes recommended by Leslie Sigurdson, head of brand collaborations at GLDN Jewelry.)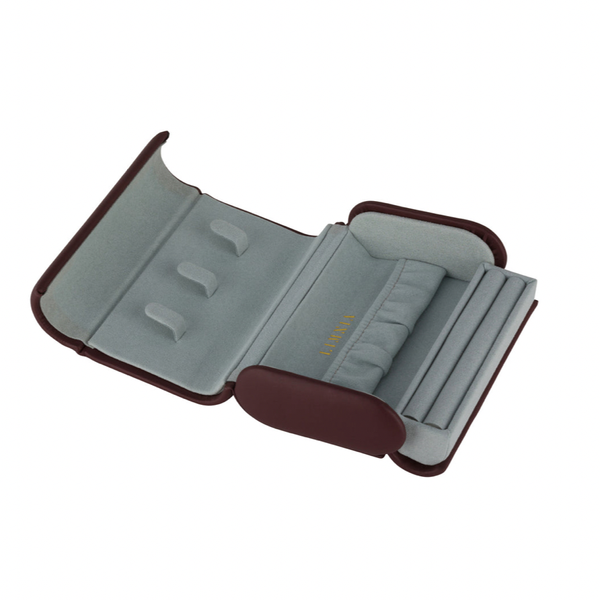 Design: Case (rectangular design) | Division of storage space: Three necklace hooks, tray, pocket | Size: 4.2" x 3" x 1.5"
Strategist senior editor Chelsea Peng got this case from a friend, Limnia founder Annette Lasala Spillane. It has handsome burgundy faux leather on the outside and blue suede on the inside. "If you're not sticking in your jewelry aggressively, the interior doesn't get scratched up," Peng says. She doesn't take too many jewels on her travels "because stuff ruins trips." This case is the perfect size to hold a diamond lariat that Peng winds around one of the hooks, mismatched pearls tucked into the pouch, and a single gold hoop in the channels that can also hold rings. "I haven't had anything fall out of a bag crevice" since she started using it, Peng says.
(Another even-less-expensive option is the travel case from Target's Brightroom line, which I recently bought to try out next. I haven't taken it on a trip yet — but I'll report back as soon as I do.)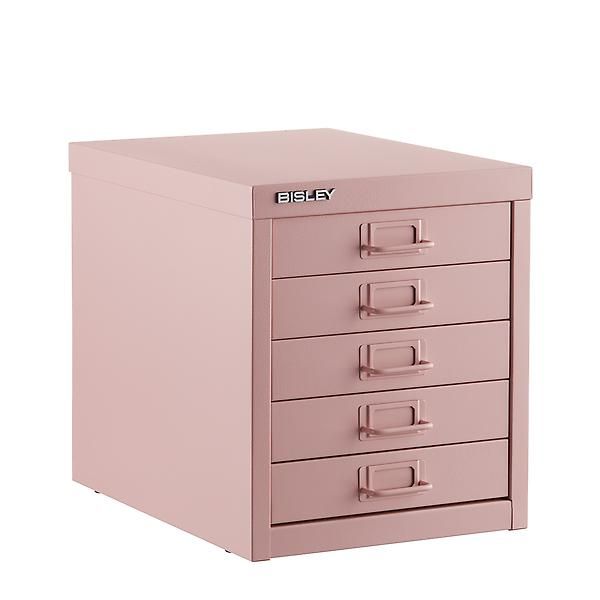 Design: Cabinet | Division of storage space: Five drawers with interior dividers sold separately | Size: 11" x 15" x 13"
Weiner crowdsourced recommendations from her Instagram followers about how they store their own jewelry after I reached out to her, and received all sorts of great intel. But I was very intrigued by this cabinet she used to use in her studio to divide up different jewelry-making parts, including unfinished cast-metal pieces. Weiner and her colleagues "got sick of opening and closing little plastic bags all the time," so they came up with this solution. To make messes minimal, she added these dividers that are designed to fit inside the cabinet. She thinks the cabinet would work best for those who have larger collections and recommends buying different sizes of the dividers, like the four-part tray for bigger necklaces and the 24-section option for an assortment of rings. Weiner also points out that the dividers are made from a softer plastic, which will be easier on your jewelry. "If you've got a piece with little pearls or stones, you don't want them to be clinking around on a hard surface." And it helps that this organizer features label holders on the front of each drawer to remind you of what's in each one. "Or, honestly, I'd leave it blank: more chic," she suggests.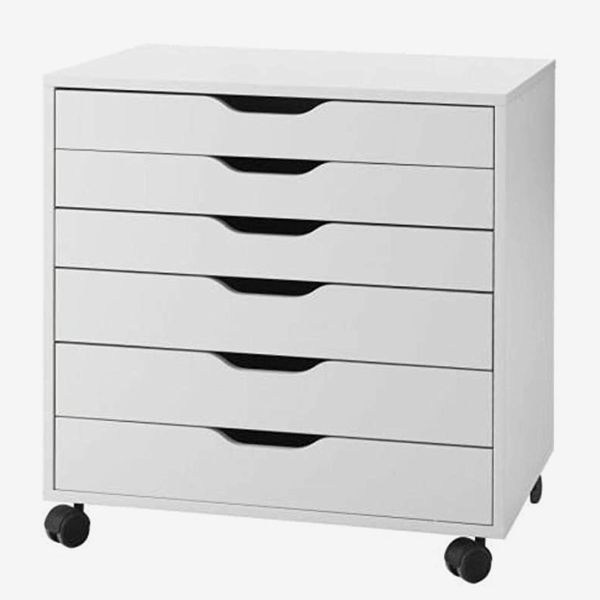 Design: Drawer | Division of storage space: Six shelves | Size: 26.38" x 26" x 18.88"
Those with large jewelry collections who do happen to want a furniture piece might consider this set of shallow drawers from Ikea. The pick comes courtesy of Behr, who uses them in her studio and showroom. She has an "extraordinary" number of pieces between her brand's archives and her personal collection, so she's "graduated to jewelry boxes that are actual pieces of furniture." The units are "like modern flat files — narrow drawers to help keep everything organized," Behr explains. However, you may also want to add interior dividers such as Stackers trays or something similar within each drawer.
• Jennifer Behr, founder of her own eponymous accessories line
• Liza Corsillo, Strategist senior writer
• Kitty Guo, Strategist writer
• Heidi Lee, founder of home-organization service Prune + Pare
• Melinda Maria, jewelry designer
• Jill Martinelli, co-founder of Lady Grey
• Corinne Morahan, founder of Grid + Glam
• Ope Omojola, founder of Octave Jewelry
• Juliana Ramirez, former brand manager at Lizzie Fortunato
• Chelsea Peng, Strategist senior editor
• Leslie Sigurdson, head of brand collaborations at GLDN Jewelry
• Jessica Tse, founder of NOTTE
• Britnee Tanner, professional organizer
• Christina Tung, founder of SVNR
• Erica Weiner, jewelry designer
• Tina Xu, founder of I'MMANY
Additional reporting by Arielle Avila
The Strategist is designed to surface the most useful, expert recommendations for things to buy across the vast e-commerce landscape. Some of our latest conquests include the best acne treatments, rolling luggage, pillows for side sleepers, natural anxiety remedies, and bath towels. We update links when possible, but note that deals can expire and all prices are subject to change.