20 Festival Outfit Ideas 2023, According to ELLE Fashion Editors
4 min read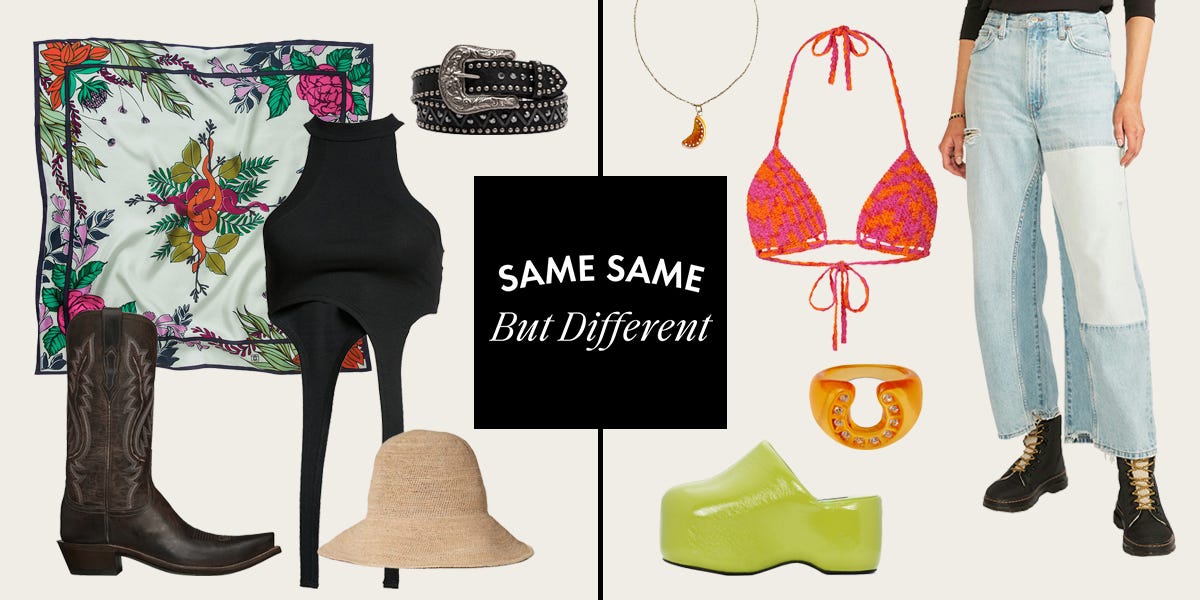 Welcome to Same Same But Different. As Gen Z and millennial fashion editors, respectively, we know a thing or two about shopping—for all ages, and especially our demographics. As we find the best products for you, we can't help but do a little shopping for ourselves and build our personal (age-appropriate) wish lists. And now, we're sharing them with you. Ahead, check out what's in our hearts and in our carts lately.
---
Dale Chong: Festival season is finally here. With changing schedules due to the pandemic, it's been a while since I've thought about it, if I'm being honest. But that hasn't stopped me from thinking about festival style. From Coachella and Stagecoach to Bonnaroo, Austin City Limits, and Electric Daisy Carnival, there are so many options to choose from—each with its own style of dressing unique to where you go (and who you see). So, Meg, in your dream festival world—who are you seeing, where, and most importantly, what will you be wearing?
Meg Donohue: Can I just say, I've been raring for this theme. I'll take any and every chance to let my inner wild child out, and festival season certainly provides an opportunity. To be clear, I'm definitely not a rave chick—you won't find me in one of those paw scarf things—but I love the whole festival culture. Camping, music, food, fashion…all of my favorite things. I'm not ashamed to admit that I want to go to Burning Man. I am ashamed to admit, however, that Peloton instructors led me this way. Robin Arzón and Jess King always talk about "the playa" and how it changed their lives. It seems like the kind of slightly cultish thing I'd be into.
Before I get into my fantasy lineup, let's talk about clothes. I'm into effortless outfits that don't require much thought. I can't be bothered to constantly readjust straps or worry about crazy cut-out tan lines in the middle of a set. Items like this vibrant tube dress bring the style and energy I want while still being an outfit I don't have to think twice about. Obviously, I'd pair this with white platform sneakers because they are currently my go-to. What about you?
DC: Should we…go to Burning Man? It's been on my mind ever since a random guy at a London bar waxed poetic about the experience. But before I digress into that conversation, I have to agree—practicality trumps style when it comes to my approach to festival dressing. The one time I attempted to prioritize looks over function—with a tasteful cashmere tank top—it was downright silly, not to mention overly warm. I quickly replaced it with a muscle tee from the merch booth after sweating through the former. Never again. I learned from my mistake and ended up wearing a printed scarf as a top with a pair of denim shorts the next day. Since then, it's been my go-to festival outfit, as well as my go-to hot-and-humid summer ensemble. So, while I'm here, I will sing all my praises for the square scarf or bandana. There's a lot you can do with both, surprisingly. I've worn mine as tube tops and halters. It's an uncomplicated way to dress intentionally, leave yourself some room to breathe, and deal with as little as possible. Plus, it packs well (I mentioned it's just a piece of fabric, right?).
When I'm not in the mood to get creative, I usually opt for a simple racer-style tank top. This one from K.NGSLEY has been on my shopping list for a while, and I think I might finally pull the trigger this year. Finally, what's a music festival without a pair of cowboy boots? They're perfect for Stagecoach, but also great for events that don't play country, too. Comfortable, sturdy, and stylish, they keep my toes protected from the crowds. And they touch on the TikTok-approved coastal cowgirl aesthetic. What more could I need?
MD: I've been known to rock a scarf as a tube top as well. And I'm glad you brought up K.NGSLEY because I, too, have been coveting the label's asymmetric takes on closet staples. And I love a good cowboy boot. In summary, your festival style gets my vote of approval.
For my day two look, I'm into these checkered knit bikinis from Shondel. I love this orange and pink one in particular, but there's also a green and blue one that I drooled over. You know when you see something online, and it looks perfect, but it never seems to look as good when you wear it? I run into that problem a lot (maybe…I'm the problem? Hi, Taylor.), especially when it comes to swimwear. I figured this would be the same, but to my delight, they look so good on—to the point where I might be emboldened to post a thirst trap. To the point where I forget Bella Hadid exists. There is no Dua Lipa; there is only me in my new bikinis.
I'm inclined to pair the suit with a slouchy pair of well-worn jeans, like these. I'm sensing I'd end up barefoot at this hypothetical festival, but I'll plan for this pair of funky green platform clogs, which conveniently matches my necklace. As for storage, I love Edie Parker's bags, particularly this one with a retractable lighter leash. You know, for…burning incense.
DC: Hey, if it's not the ingenuity of that lighter bag that gets me on board, it'll be the fact that Julia Fox has one. Although, I tend to take a different approach to my festival carryall these days. I spent my early days at events sporting fanny packs—because who doesn't love a hands-free moment?—but these days, I spend more time out the outskirts of the crowd (I am simply too old for getting moshed around now), which means I give myself a bit more freedom with the extra bits and bobs—hence my leather hobo bag.
As for the rest of my festival getups, I've chosen to take on the challenge of creating outfits that work for wearing outside of the festival grounds once it's all over. (You know those early Coachella photos of celebs just wearing regular old dresses and cardigans? Times have changed.) Of course, that's not without festival-specific inspiration. Assuming I'm going somewhere with a colder climate, like San Francisco, I'll be channeling Kate Moss at Glastonbury with this long-sleeve mini dress, a funky studded belt, and knee-high rain boots. The glasses are simply because I hate contacts, especially when I'm out all day or when it could be dusty. Also, they're cute.
And now that we know what will be on our packing lists, go on—tell us your dream lineup! The fans are waiting. (I am fans.)
MD: As you well know I'm a Hairball, a.k.a. a Harry Styles fan, so he's a must. I'll shoot for the stars and say Beyoncé because of Renaissance; Hozier and Bad Bunny also get spots on the main stage. I could go on, but I think I've probably maxed out my theoretical budget by now anyway. What about you? Who's making the cut?
DC: Honestly, I'm already waiting at the front of the field with you at Harry's House, er, field. But after him, I can just imagine how fun a Lizzo show would be—all the TikTokers would be doing their routines to "It's About Damn Time." I'm also a huge fan of Giveon, and I think a sweet summer evening ballad would be just what I need to cool down a bit. And finally, Blackpink—because that K-pop band is undoubtedly going to put on a show. Now let's get our flights booked, shall we?

Dale Arden Chong is the Senior Fashion Commerce Editor at ELLE.com. Previously, she was an editor at MensHealth.com and has written for Who What Wear, GLAMOUR, The Coveteur, and more. She loves fashion, food, and art, among other things—but her greatest love is K-pop idol V of BTS. 
Associate Fashion Commerce Editor
Meg is the Associate Fashion Commerce Editor at ELLE.com where she researches trends, tests products, and looks for answers to all your burning questions. She also co-writes a monthly column, Same Same But Different. Meg has previously written for Cosmopolitan and Town & Country. Her passions include travel, buffalo sauce, and sustainability. She will never stop hoping for a One Direction reunion tour.