7 Fall 2023 Fashion Trends to Shop Now
5 min read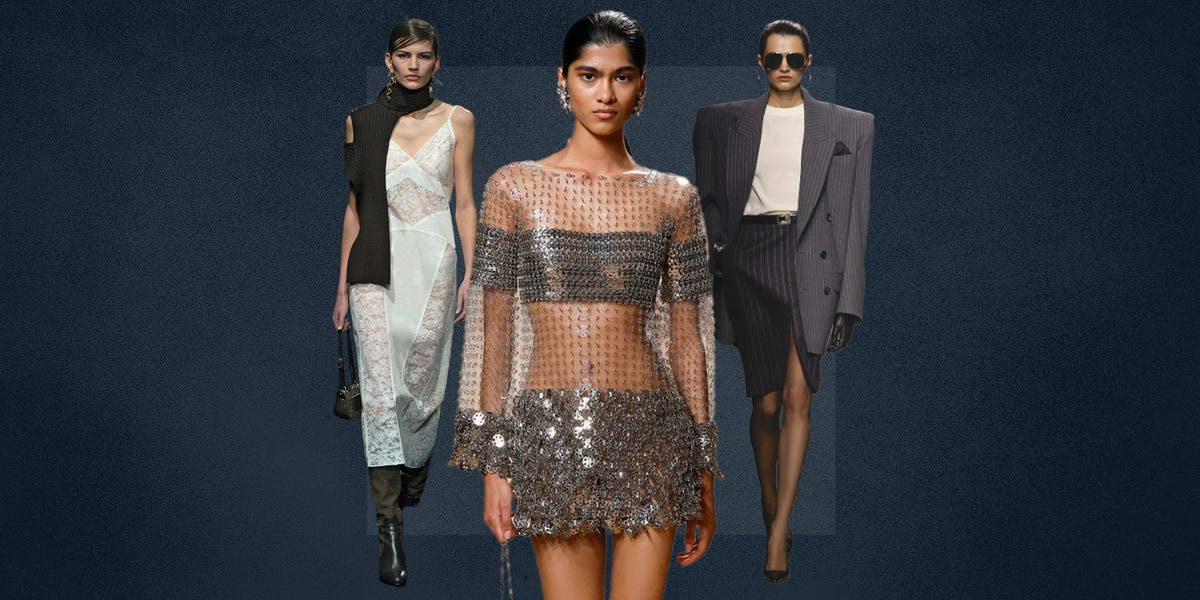 The dog days of summer are here, and while that means lapping up our time in the sun (with good hats and sun protection obvs), lazy days wearing linen sets and doubling up on the crochet, it also means we are headed to the most exciting time of year for getting dressed: fall. Autumn's crisp temperatures give way to ample opportunities for accessorizing (hello boots and scarves), rich colors and textures, and oh the difference a good jacket or coat could make for an already amazing outfit.
With that comes a chance to play with the trends we saw head down the runway in February. And the 2023 fall fashion trends are nothing to scoff at. Here, 7 of our favorite trends straight from the runways to shop now for Fall 2023.
Prep Is Back
In the age of stealth wealth and the low key rich bitch dressing essentials, it is only natural that prep—and its adjacent classic stylings—should come roaring back into fashion. Some may argue they never left. Sportswear and the preppy athletic activities that come with them are exceedingly popular, as the tailored tweeds, classic cable knit sweaters, and timeless pieces like loafers. Want to look like you live in a Ralph Lauren fantasy world? There's never been a better time.
____________________________________________________________
Leather Remix
One could argue that leather is perennially in style, sure, but Fall 2023's take on leather relies on interesting and unexpected cuts (patchwork leather), head-to-toe leather suiting a la Prada, and elevated details on leather pieces. No longer does this material have to be considered an accent—it is the look.
Pro tip: opt for sleek and ladylike silhouettes for added contrast and interest. Or, take things to the next level with a leather piece in an unexpected colorway—though we would suggest red, as it is the natural evolution from the Barbiecore pink we've seen explode in popularity this summer.
_____________________________________________________________
Dark Romance
If there's anything to look forward to this fall it's the gothic glamour that came down the runways, especially at Rodarte. Think: Wednesday Addams all grown up. From sumptuous silks and high contrast color palettes of rich blacks and lily white lace collars and feminine mary janes, moody romance will be everything, especially when it comes to evening dressing.
_____________________________________________________________
Barbarella Redux
Barbarella is back and for that we have Rabanne's Julien Dossena to thank. The late Spanish designer's label has skyrocketted to new heights with Dossena at the helm, all but totally revitalizing the shimmering metallic pieces that prove that gold, silver, and other metals can create an armor of femininity, and that sequins aren't the only way to add shimmer. Go for the Rabanne signature in a chainmail skirt, or add some visual interest in head to toe gold. No matter which way you choose, the metallics make the look.
_____________________________________________________________
Dare to Be Seen Delicates
If heavy metals are making a statement, by contrast, so are delicates. Think: better than your lingerie drawer. Lacy accents and light, silky fabrics add an air of girlishness to juxtapose the classic warmer textures of fall a la Fendi. Grab a lace slip and let it be seen. Giving people a selective (and tasteful) peek at your drawers is nothing to clutch your pearls over. And if lace isn't quite your thing, add some visual interest with sheer pieces instead. The takeaway? It's all about sensuality no matter what you choose.
_____________________________________________________________
Late Bloomers
Not to invoke a quote that induces eye rolls, while florals for spring may not be groundbreaking, they certainly can be for fall. While there may not be any blooms in sight for a few months, sartorially speaking that won't be the case if the designs of Miu Miu have anything to do with it. Maybe it's floral embroidery in a subdued color palette, or maybe it's a bright print covered in buds, the key here will be adding in the right accessories (like a suede clutch or shearling) to take your look to an edgier territory.
_____________________________________________________________
Power Dressing
While oversized blazers and wideleg pantsuits have been all the rage, this season these looks will give way to more tailored versions. Dare we say it, it's about damn time. While the borrowed-from-the-boys-in-the-boardroom look will still reign supreme, keep your style sharp by adding pinstriped pencil skirts, and blazers with sharp lines—and even sharper tailoring— to nip at the waist and heighten your already high glamour vibe. Add a chunky cuff and sheer stockings in the vein of Saint Laurent and you will turn heads.

Deputy Digital Lifestyle Director
As the deputy digital lifestyle director at Town & Country, Roxanne Adamiyatt covers fashion, beauty, wellness, design and travel.