Jennifer Fisher's Birthday Banger, The Museum of Art & Design's 'MAD' About Jewelry Benefit, Erdem x Net-a-Porter In LA, And More!
4 min read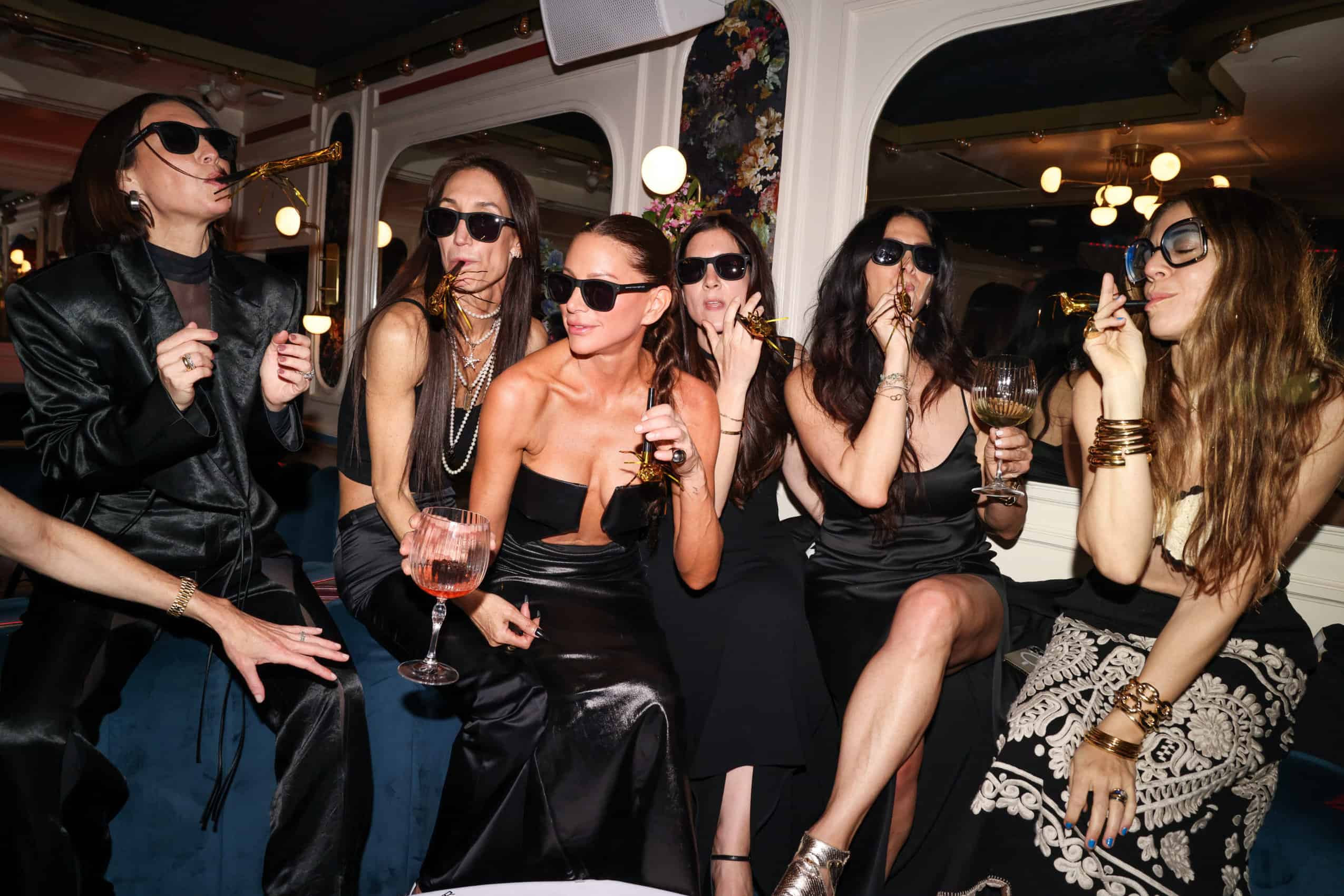 Jennifer Fisher turned it up a notch for her birthday bash
If you haven't already heard of party restaurant Maison Close thanks to the TikTok crew, no doubt you have now. Jewelry designer Jennifer Fisher made sure everyone was in flying form in the Soho hotspot last night as she celebrated her birthday with tabletop dancing, endless champagne and caviar, fries, burlesque performances, and everything in between. Family, friends, and industry supporters turned up en masse to toast to the fun-loving 'Queen of Hoops'—and much to their delight, at one point she was even tossing out her signature earrings into the crowd. Joining Fisher on the night were Athena Calderone, Savannah Guthrie, Wes Gordon, Caroline Daur, Ezra J. Williams, Tina Leung, Jenna Perry, Leah McSweeney, Brett Heyman, Jenna Lyons, Ubah Hassan, Nicole Chavez, Meredith Melling, Katie Jane Hughes, Dr. Macrene Alexiades, Radhika Jones, Chrissy Rutherford, Cass Bird, Dani Stahl, Ronny Kobo, Stacey Bendet, Jenny Mollen, Jason Biggs, Eric Rutherford, Priya Shukla, and many, many more. That's how it's done!
Jennifer Fisher, Athena Calderone
Austen Turner, Katie Jane Hughes, Mariam Alsibai, Jenna Perry
Jennifer Fisher
Chrissy Rutherford, Kate Lanphear
Brett Heyman, Wes Gordon, Jennifer Fisher, Paul Arnhold
Caro Daur
Ezra J. William, Jennifer Fisher, Winnie Chang, Tina Leung
Jenna Lyons, Jennifer Fisher, Cass Bird


Jenny Mollen, Stacey Bendet, Ronny Kobo
Jennifer Fisher, Ubah Hassan
Jennifer Fisher, Meredith Melling
Radhika Jones, Jennifer Fisher, Savannah Guthrie
Jennifer Fisher, Nicole Chavez

Priya Shukla, Jennifer Fisher, Leah McSweeney
Jason Biggs, Jenny Mollen
Images: BFA
The Museum of Arts and Design's 'MAD About Jewelry' opening benefit
Calling all New Yorkers. The world's most interesting and innovative jewelry of the moment is currently on display—and up for grabs!—at the Museum of Arts and Design's annual MAD About Jewelry show and sale. The beloved event, which spotlights 50 homegrown and international makers, is open (and free) to the public until April 29. Now in its 23rd year, and a vital endeavor to support the Museum's exhibits and programing, the event kicked off with an opening benefit which honored the MAD About Jewelry 2023 Awards recipients. Over an intimate dinner hosted at the Museum's Robert restaurant, industry guests and Museum executives celebrated Alexis Bittar, founder of the eponymous luxury jewelry and accessories brand; Linda Fargo, senior vice president of fashion and store presentation at Bergdorf Goodman; and Sam Broekema, editor-in-chief of Only Natural Diamonds, the digital editorial platform powered by the Natural Diamond Council. On the night, two emerging jewelry artists, Miki Asai and Steven KP, were also invited to have their work included in the Museum's permanent collection. Guests in attendance included Museum leadership such as Michele Cohen, Chair of the Board of Trustees; Bryna Pomp, Director, MAD About Jewelry; Tim Rodgers, Nanette L. Laitman Director; and Elissa Auther, Deputy Director of Curatorial Affairs and the William and Mildred Lasdon Chief Curator. They were joined on the evening by Ana Khouri, Beau McCall and Peter "Souleo" Wright, Fern Mallis, Judy Geib, Levi Higgs, Lilah Ramzi, Lutfi Janania, Lynn Yaeger, Nikos Koulis, Nina Tiari, Rickie de Sole, and Zani Gugelmann.
James Aguiar, Linda Fargo
Michele Cohen, Sam Broekema
Fern Mallis
Carla Bronzini
Suzanne Golden, Zoe Sherwood
Bryna Pomp
Michele Cohen, Rebecca Hessel Cohen
Lilah Ramzi
Orly Cogan, Marilyn Kirschner
Linda Fargo, Tim Rodgers
Polina Proshkina
Jessica Iredale, Sam Broekema, Julia Kalachnikoff
Nina Tiari
Jeemin Jamie Chung, Sara Barbanti
Karen Rotenberg, Michael Rotenberg, Laura De la Torre
Louisa Fruehauf
Freya Drohan
Desiree Bren
Michele Cohen, Tedd Taylor
Maria Brito, Zoe Fisher
Lynn Yaeger
Nina Tiari, Lutfi Janania Zablah
Lilah Ramzi, Rickie de Sole
Linda Fargo
Alejandra Campos Taylor, Tanya Crane
Miki Asai, Elissa Auther, Steven KP
Ruthie Friedlander
Images: BFA
Net-a-Porter & Erdem hosted a poolside dinner at Chateau Marmont
The A-listers headed to Sunset Boulevard this week to join Erdem and Net-a-Porter for an intimate cocktail party and poolside feast. The event was to celebrate the pre-launch of the designer's impossibly pretty Vacation collection, which was modeled on the evening by many of those in attendance. Among those who joined the the candle-lit dinner and music by DJ MAAD were Ava Duvernay, Dita Von Teese, Gillian Jacobs, Marisa Tomei, Rashida Jones, Annabelle Wallis, Ashley Madekwe, Clara McGregor, Gillian Jacobs, Jaime Ray Newman, January Jones, Maria Bakalova, Natasha Liu Bordizzo, Liz Goldwyn, Gigi Goode, Symone, Elisa Sednaoui Dellal, Grace Mahary, Hilary Rhoda, Kate Foley, and many more.
Subscribe to our newsletter and follow us on Facebook and Instagram to stay up to date on all the latest fashion news and juicy industry gossip.