Shahnaz Husain Shares 7 Easy Makeup Hacks To Get Plumpy, Pouty Lips
3 min read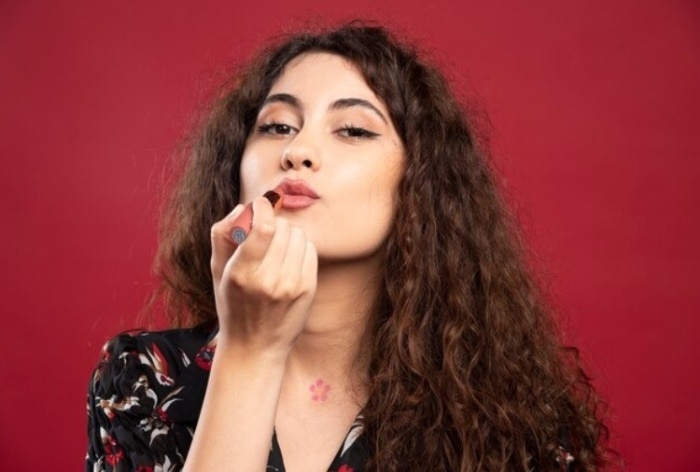 Beauty expert, Shahnaz Husain shares easy makeup hacks to enhance the size and shape of your natural pout.
Like the eyes, the lips add character to the face. They are the focus of attention when we speak. The lips add balance to the face, along with other facial features. As far as beauty is concerned, appropriate lip makeup can enhance the beauty of the face. In fact, make-up can help to shape the lips, so that they are in harmony with other features. The skin of the lips is thin and delicate. It does not contain oil glands. That is why it becomes dry and chaps easily in the dry season. After washing the face, rub the lips gently with a soft towel to remove dead skin. Apply cream of milk daily and leave on for an hour. At night, apply pure almond oil or an almond cream daily on the lips and leave on overnight.
How to Make Lips Look Thicker With Your Own Makeup Products:
To make thin lips appear fuller, use a lip pencil to draw the lip line a little above and below the upper and lower lips. Then fill in with colour, using a lip brush.
The colour of the lip pencil should be only one shade darker than the lipstick. Light colours and gloss also make the lips look fuller.
To make thick lips appear thinner, use the lip pencil to draw the lip staying within the natural lip line.
Then fill in with colour with a lip brush. Matte lipsticks suit thick lips. Avoid using glossy lipsticks and pastel shades.
For drooping lips, use the lip pencil to raise the corners of the mouth, by raising the outline slightly upwards at the corners.
To give the illusion of a pout, apply lipstick all over the lips, leaving out the centre. Then, apply a lighter coloured lip gloss in the centre.
Home Remedies For Dry Lips:
For dry and chapped lips, have a diet rich in Vitamins A and C. Use glossy lipsticks and lip balm. Remove lipstick with a cleansing cream.
Apply almond cream at night and leave on.
Cuts in the corners of the mouth can occur after fevers and illness. Consult a doctor about it.
Wrinkles around the mouth can occur due to age or excessive dryness over a long period of time. Daily application of almond cream will help.
Discolouration of the lips occurs due to sun-exposure and perfumes in certain lipsticks, due to photosensitivity. Change the brand of lipstick. Apply almond oil at night.
Don't Miss Out on the Latest Updates.
Subscribe to Our Newsletter Today!