Stockings, style, surrealism! How Man Ray changed the fashion industry | Art
5 min read
Man Ray's first fashion shoot was a disaster. It was 1922, and the artist had just arrived in Paris from New York with one suitcase, $100 and the singular goal of becoming one of the bright young things of dadaism alongside Duchamp and André Breton.
He had been taking photographs for a few years, but mainly portraits (Jean Cocteau was an early Paris sitter), and not always enthusiastically. He later said "photography is not art", and that he would only shoot things he couldn't paint. Still, he had no money, so when he was commissioned by Paul Poiret, the French couturier who took women out of corsets and put them into harem pants, he agreed. Back then, illustrations were the go-to for fashion houses, but Poiret was after something a bit different, which Man Ray was. Except the American turned up at the salon with no idea what he was doing. The lights weren't right, and the electrics broke on set. Poiret didn't like the pictures and refused to pay.
These photographs, among the early work once described as "appallingly banal" by the French critic Alain Sayag, never saw the light of day. But they became Man Ray's Damascene moment. According to Romy Cockx, curator of a new exhibition at Antwerp's MoMu, which looks at how fashion informed Man Ray's work and how he, in turn, influenced the industry, "his wish to be accepted as a painter meant he dismissed his work as a fashion photographer and photography as a whole. Yet, he was pleased with these shots, pleased with what he had created".
Man Ray went on to take portraits of Parisian high society and shoot for fashion magazines and various cosmetic brands, while toying with different photographic methods such as solarisation (exposing a partially developed photograph to light to create a dark outline) and double exposures. There were, it seems, two Man Rays. One, the world-famous surrealist who turned banal objects into works of art, and the other, a prolific fashion photographer who parked his unease about the industry to create a body of work which, in the end, accounted for more than his entire non-fashion work put together. It also bought him a nice house in Hollywood. Without one, it seems, we wouldn't have the other.
The MoMu show has a short run, largely because you simply can't have a 110-year-old dress on display for too long. Based on versions held in Marseille and Luxembourg that took place in and around the Covid pandemic, it aims – by and large successfully – to reconstruct Man Ray's career during the 1920s and 1930s using more than 200 photographs, while contextualising his work within past and contemporary fashion by Chanel, Lanvin, Loewe and Martin Margiela.
The show opens with coat hangers. A single one whose wire has been folded into a pair of breasts from the 90s by the Belgian designer Margiela – and a 1920 assemblage of 63 wooden ones called Obstruction, by Man Ray. Born Emmanuel Radnitzky in Philadelphia in 1890 (he changed his name as a teenager), his parents were Russian immigrants with a background in fashion. His mother was a seamstress and his father a tailor who would bring clients home for fittings. Man Ray never explicitly cited either as having any impact on his career but equally, "if he was the son of a butcher, chances are these would be knives hanging from the ceiling," says Cockx.
Of the 200 photographs, most are of his lovers, Lee Miller and Kiki de Montparnasse, which the exhibition convincingly links to the dresses beside them. According to Belgian fashion expert and MoMu guide, Katleen Derijcke, Margiela (quite innocently) never made a direct link between his work and that of Man Ray. It's an intriguing claim, one that recalls Tony Benn reading Marx as a middle-aged man and discovering that the German had "already come to the conclusion I'd come to about capitalism" over a century before him. Margiela's 1996 spring/summer collection features photographic negatives of articles of clothing; his 2008 body suit is overlaid with a black trompe l'oeil bra. It's all undeniably Man Ray.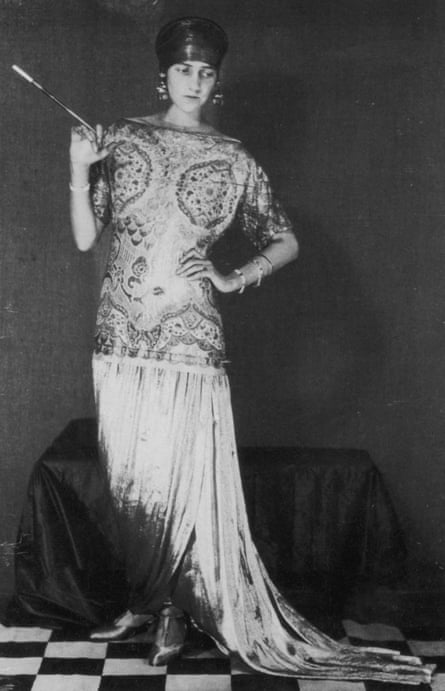 In fact it's remarkable how many designers borrowed from Coat Stand, Man Ray's first nude, in 1920. The trompe l'oeil effect, made famous by Man Ray in his image of a woman behind a coat stand wearing black stockings, has been replicated time and again, as seen in a 2022 Loewe dress with a pair of balloons covering the breasts. Cockx also sourced a trompe l'oeil knit by Celine in 2012 which is almost identical to one worn in a 1930 image of Miller.
This being Antwerp, the focus elsewhere is on Belgian designers. Some you may not have heard of (Norine and Timmermans) and some you possibly have (Ann Demeulemeester and Dries Van Noten). Part of the Antwerp 6, these fashion students who graduated from the Royal Academy of Fine arts between 1978 and 1982 were among the most highly regarded designers of their generation. They were given their name because, after storming European catwalks, none of the press could pronounce their surnames. Margiela is older, but considered to be an honorary member.
Man Ray's fashion work proper is divided between two decades and two magazines, Vogue and Harper's Bazaar. In 1924, he landed a six-year gig shooting for the former, which coincided with that decade's receding hems and dropped waists. A change of staff at Vogue meant Man Ray stopped in 1930 before signing a contract with the more avant garde Harper's Bazaar in 1934. Carmel Snow, its editor, encouraged the photographer's techniques – it was here that he was encouraged to use solarisation as standard.
"It's not always obvious what is fashion photography and what is not," says Cockx, of Man Ray's work. Who else could glue glass beads to a woman's face (Les Larmes, 1932) and use it to sell Cosmecil mascara? His famous shot of Peggy Guggenheim in a Poiret dress, her back to the camera and a coy turn to the lens, looked like a fashion editorial but was in fact a portrait. Another photograph shows a model wearing a gold gown by Madeleine Vionnet reclining in a wheelbarrow padded with pink satin. It looks like surrealism but in fact appeared in Harper's Bazaar in 1937. Rather than distract from the dress, the angle somehow elevates it. "The contrast between the glamour and the practical is so arresting you can see why this sort of thing ended up in magazines," says Cockx.
Most intriguing perhaps were the angles – either bird's eye or worm's eye view – and poses. Man Ray made his models mimic mannequins and even introduced props such as the large white birds he commissioned from the sculptor Giacometti as backdrops to a Chanel shoot in 1937. It was this commercial interplay between earning money, making art and poking fun at fashion, that made him a precursor to Andy Warhol.
If today, fashion is about selling a complete lifestyle rather than a single dress, we can probably chalk that up to these techniques. Most of the time, the clothes play second fiddle to the image. Fashion magazines today are often contractually obliged to shoot whole looks straight off the catwalk.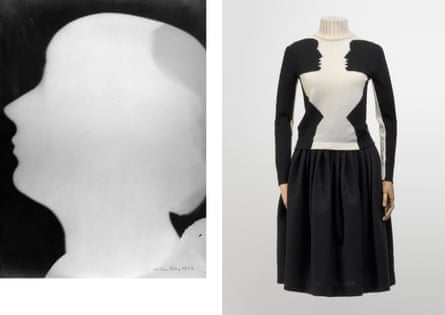 Between 1936 and 1938, Man Ray's work would appear in every issue of Harper's Bazaar. However reluctant he was to photograph Schiaparelli gowns, he knew better than to bite the hand that fed him: "I was going to make money – not wait for recognition that might or might not come," he wrote in his memoir, Self-Portrait.
Impressively, most of the clothing comes from the archive – "clothes really don't travel well, and other museums would do well to observe this", says MoMu's head curator, Kaat Debo. Still, this is a tricky time for fashion exhibitions. "Everyone wants a blockbuster," she says. "But there is a tension between public and privately funded museums. In the past, we've seen big brands put on exhibitions, which they've extensively toured in important markets, and with bigger budgets. But there is a different and specific role that publicly funded exhibitions can and should take up, which is to be more critical of the industry – the impact fashion has on society and the planet. We can deal with the creativity of fashion but also the dark side."
While it's unlikely Man Ray would have endorsed such an exhibition, the snobbery he held as a young man in Paris must have softened: towards the end of his life he was often seen scouring secondhand bookshops looking for old copies of Vogue. "Financially it absolutely helped his career, but also with fame, and he knew that," Cockx says. Noire et blanche, a surrealist shot of Man Ray's lover, Kiki de Montparnasse, beside a black mask, was published in Vogue in 1926. In 2017, it sold for over $3m at Christie's, Paris.
"The reason the photographs in the exhibition are so small is because they're from negatives found in one of his last ateliers," says Cockx. "The fact that he didn't destroy them suggests they mattered to him, one way or another."