The 12 Best Jewelry Boxes and Organizers of 2023
9 min read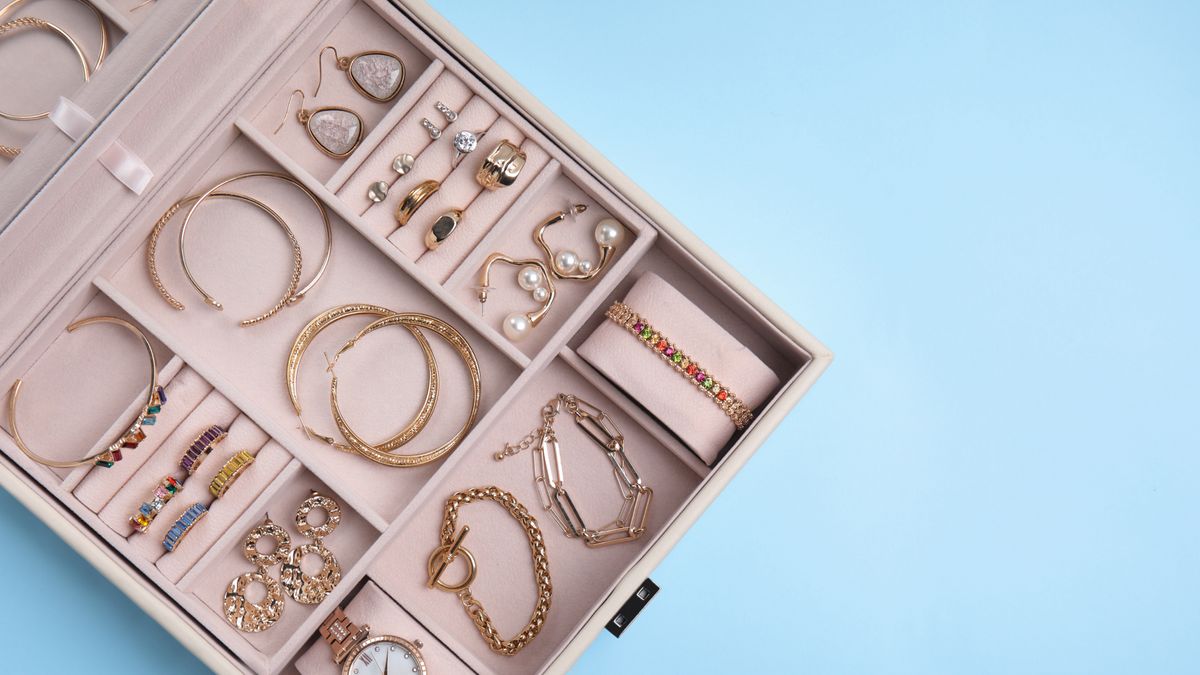 At the end of a long day, I take off my rings, earrings, and necklaces and put them on my dresser or bathroom sink. Now, I'm not a messy person per se, but often a midi ring or earring stud will go MIA. They'll fall behind my dresser or roll off the sink, forcing me to jump into action to save my earrings before they make it down the drain. I've only recently started using jewelry dishes to contain my growing accessories collection (spring 2023's jewelry trends are looking pretty good, by the way), but even that isn't the best solution. I've learned I need an actual jewelry box to not only prevent a tragic mistake but to properly store my favorite jewelry pieces so they stay sparkling for years to come. 
In my search for one, I've realized that not all jewelry boxes are created alike—some have multiple compartments, some are lined, and some are as simple as a tray and a lid. So which box will provide the best storage for my pieces and double as cute décor for my space? I tapped jewelry designer and founder of ISA NOY Jewelry, Isabel Herrero, to find out.
What to Look For in a Jewelry Box or Organizer
Sure, any old jewelry box is a step above storing your jewelry haphazardly across your dresser, but the material of the box really matters if you want your jewelry to last for years to come. Herrero recommends opting for boxes made from soft, natural fibers. "I recommend silk, velvet, or cotton," she says. "The gentle nature of these materials will not scratch or mark any of the jewelry." 
While Herrero recommends a lined jewelry box, that's not to say you can't put your favorite pieces on display with a dish or tray. Just make sure to line it with a soft piece of fabric for protection, says Herrero. 
You'll also want your jewelry box to have plenty of different compartments. "Keep the pieces from bumping each other, no matter what jewelry organizer you go for," Herrero says. "It's best if they all have room and their own breathing space." It's especially important to keep your diamond and gemstone jewelry separated to prevent scratches or marks. Herrero explains that each stone has a different rating on the Mohs hardness scale, which basically rates each gem's scratch resistance from 1 to 10. Diamonds are the hardest material there is with a Mohs rating of 10, so they can scratch any other stone. So, to keep your jewelry in tip-top shape, separate your pieces into different compartments. 
The Best Jewelry Boxes and Organizers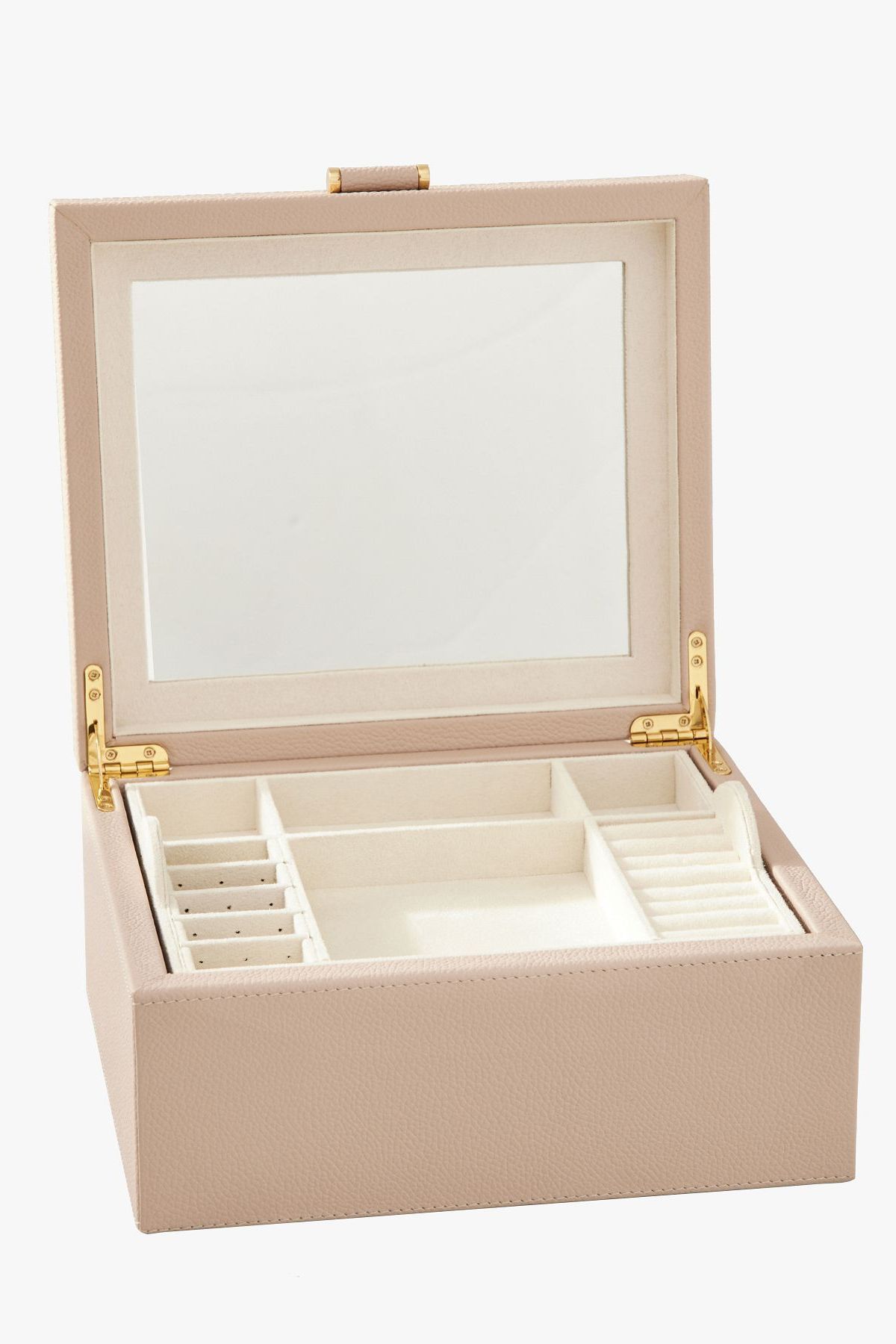 Best Overall Jewelry Box
(opens in new tab)
Pottery Barn Quinn Jewelry Box
This chic box may look small, but don't underestimate its storage capabilities. It has two removable trays so you can easily store larger pieces on the bottom, while you keep your precious pieces up top. It's also lined in polyester suede so you won't have to worry about your favorite things tarnishing. Take your pick from seven colors and add you monogram for a personal touch. 
Pros: Has separate compartments for rings, necklaces, earrings, and bracelets; Comes with built-in mirror; Lined in anti-tarnish polyester suede; Can be monogrammed; Available in seven colors. 
Cons: Interior made from synthetic material.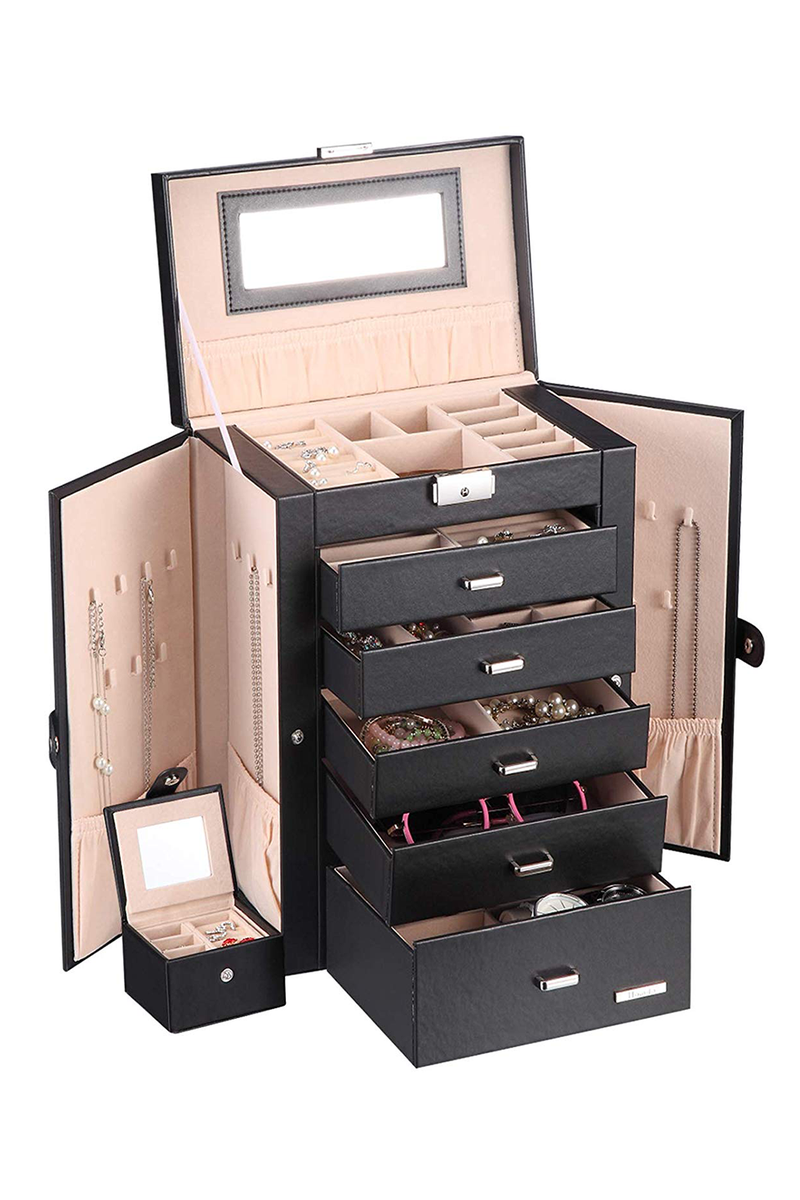 Best Affordable Jewelry Box
(opens in new tab)
Homde 2 in 1 Huge Jewelry Box
Most jewelry boxes are horizontal, so if you're looking for something that maximizes what little space you have on the counter, get this vertical one. It has six pull-out drawers, one deeper drawer for sunglasses, and two side compartments with 22 hooks and 4 pockets for necklaces. It even comes with soft pillows for watches and a removable mini jewelry box for travel. Adding this to my wishlist.
Pros: Under $100; Lined in velvet; Comes with travel jewelry box; Has separate compartments for rings, necklaces, earrings, and bracelets; Comes with built-in mirror. 
Cons: Some reviewers note the material on the outside feels a bit cheap.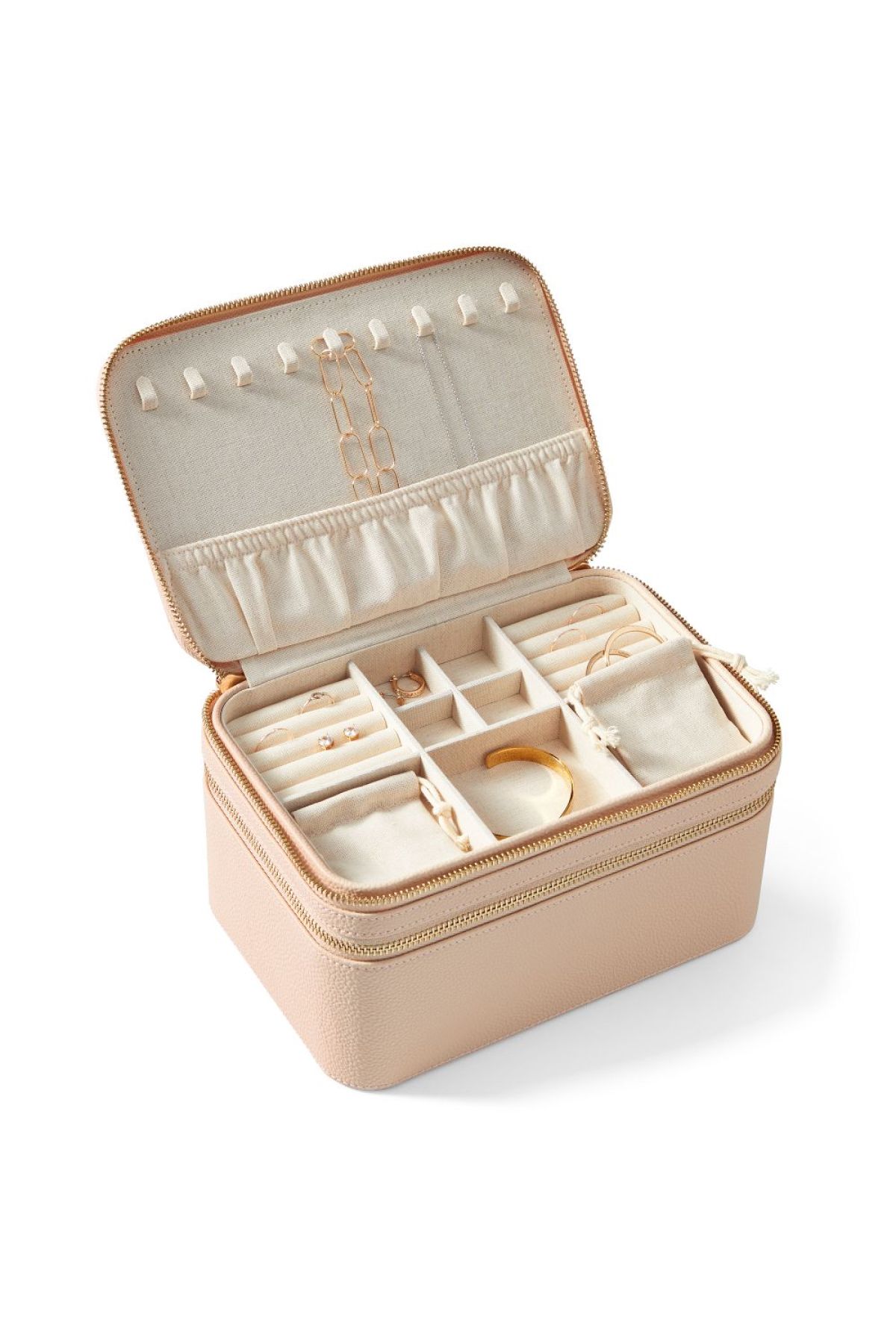 Best Travel Jewelry Box
(opens in new tab)
Mark and Graham Dual Travel Case
Traveling light is no easy task, but with this case, it could be. On the top, you've got the ultimate jewelry storage complete with divided compartments and zip pockets to keep small pieces like rings and earrings secured. It also includes tabs to hold your necklaces without tangling. Then on the bottom, you have a large compartment for all of your makeup or toiletries. This one also comes recommended by Herrero who says, "If I would buy one today, I would choose something like this and keep it on my vanity." 
Pros: 2-in-1 case; Can be monogrammed; Available in three colors; Travel-friendly
Cons: Limited jewelry storage.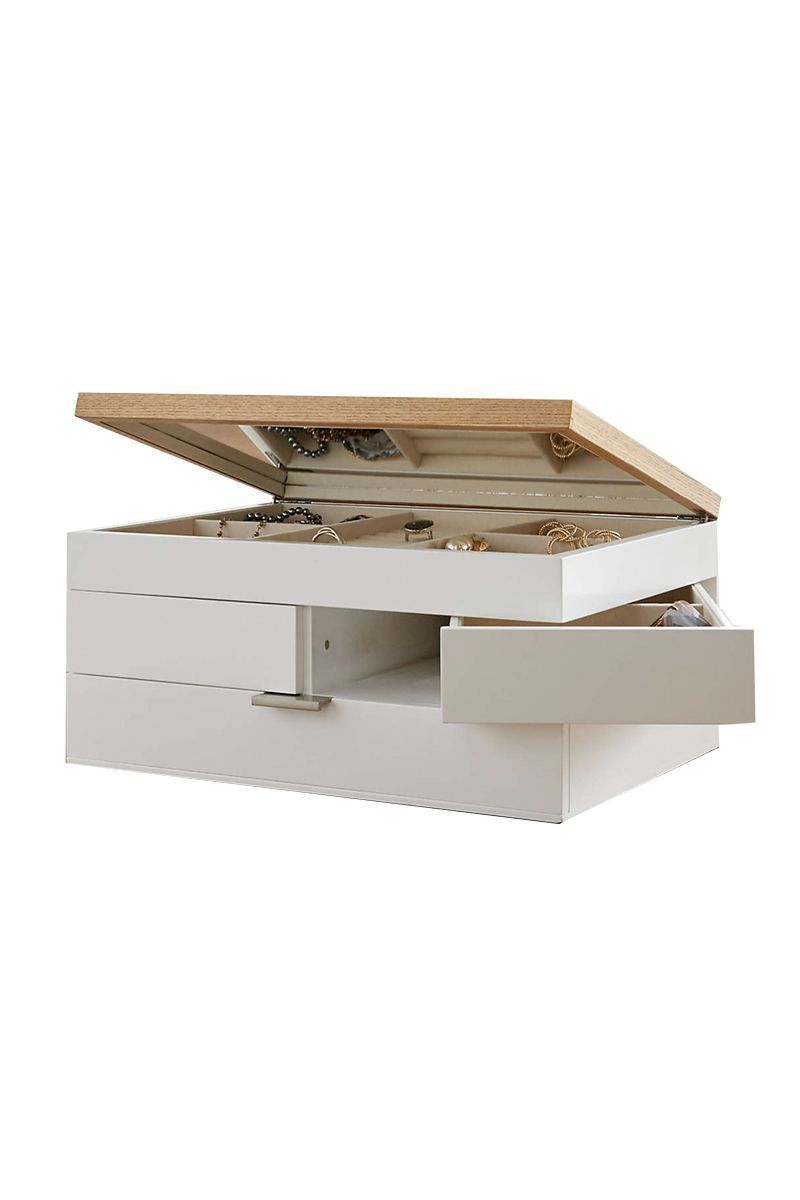 Best Wooden Jewelry Box
(opens in new tab)
Crate and Barrel Selma White Jewelry Box
Is your apartment or house heavy on the wood accents? If it is, you'll want to get this jewelry box with a wooden lid. The top shelf holds rings while the two side swing drawers can hold larger pieces like necklaces. There's even a built-in mirror, so you don't have to go all the way to the bathroom to put on your jewels.
Pros: Lined in linen; Comes with built-in mirror; Made of sturdy wood. 
Cons: Reviewers say it is bigger than expected.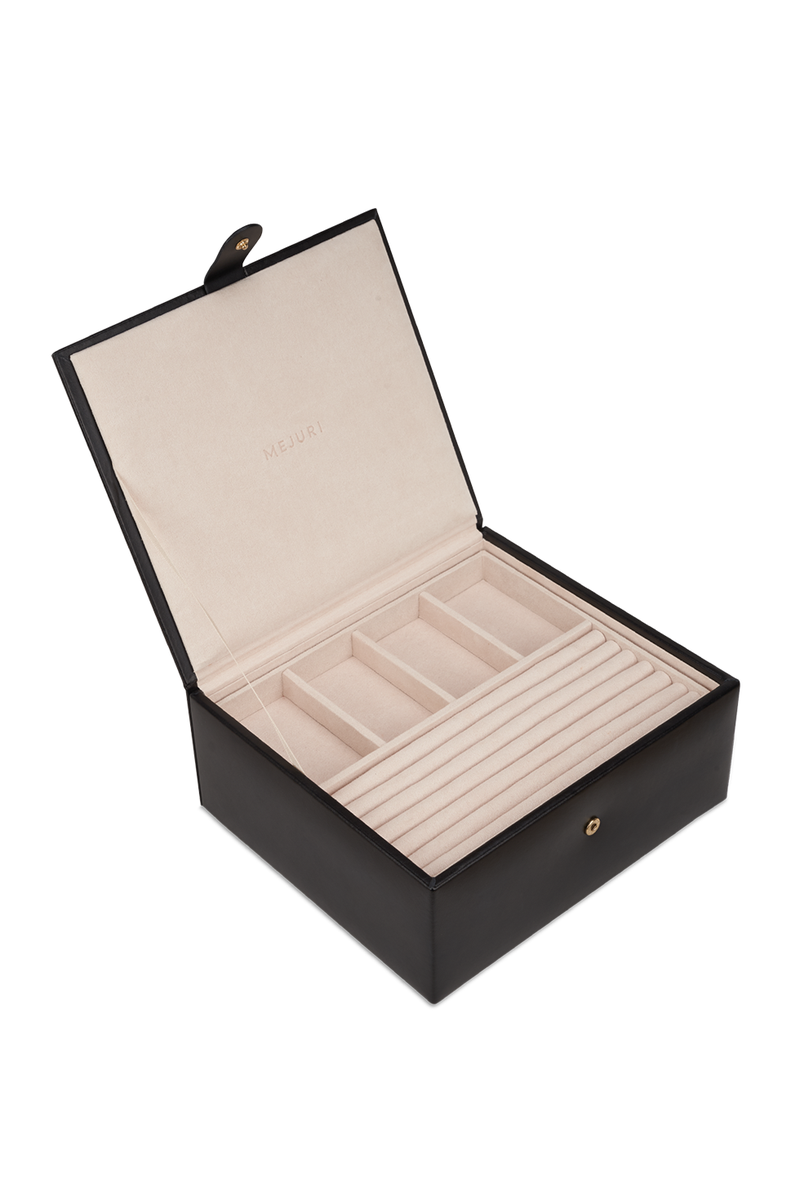 Best Classic Jewelry Box
(opens in new tab)
Everyone's favorite minimalist jewelry brand offers two substantial boxes (the inside has three removable trays!) to keep your stackable rings and pendant necklaces in. The jewelry holder is made from grain leather and has an anti-tarnish microsuede interior lining. This box can also be monogrammed free of charge. Fancy!
Pros: Lined in anti-tarnish microsuede; Can be monogrammed; Leather exterior; Has three removable trays. 
Cons: Large rings may not allow the lid to close.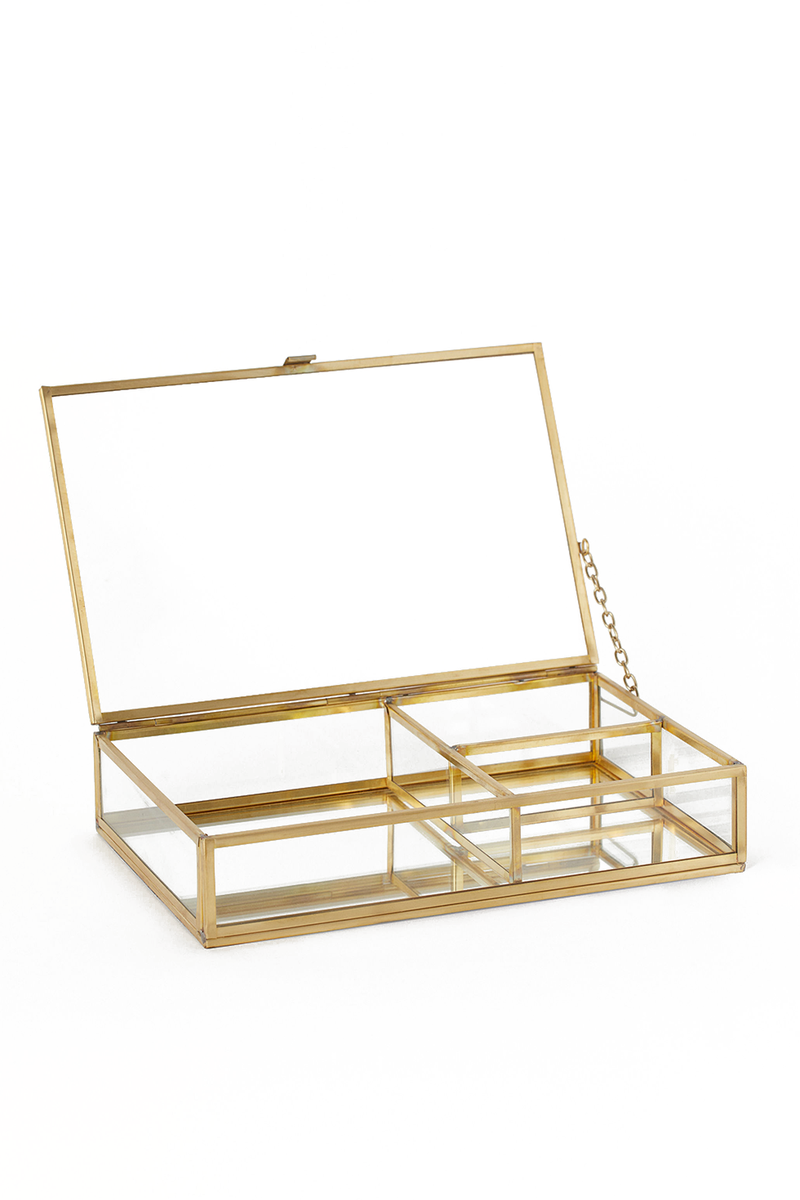 Best Glass Jewelry Box
(opens in new tab)
H&M Clear Glass Jewelry Box
We've all seen those photos on Pinterest of nicely displayed jewelry in glass cases. If that's your aesthetic, you'll love this affordable transparent gold box from H&M. It looks luxe on your dresser with necklaces and rings inside or even on your bookshelf, should you decide to fill it with tiny crystals or other knickknacks instead.
Pros: Under $50; Doubles as decor. 
Cons: Unlined; Limited storage.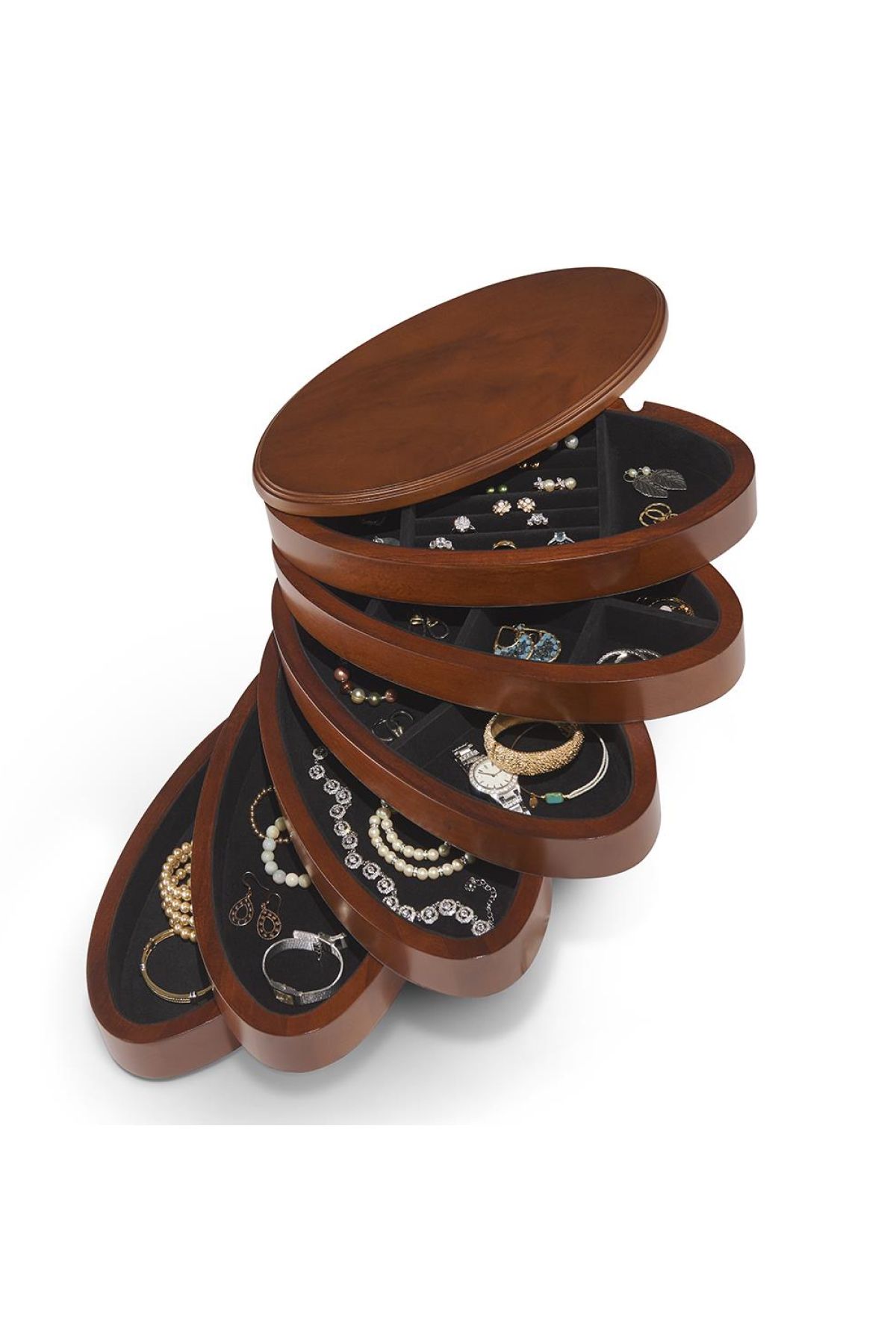 Best Tower Jewelry Box
(opens in new tab)
Hammacher Schlemmer The Tarnish Eliminating Jewelry Tower
The only thing better than the unique shape of this jewelry box is all of its nooks and crannies for storage. Complete with six different layers, each compartment is divided into sections for your different pieces. Even better, though, is the lining. Its microfiber lining attracts and absorbs hydrogen sulfide and other contaminants that cause metal to discolor, so no tarnish here! 
Pros: Made of sturdy wood; Lined in anti-tarnish microfiber; Upper three compartments contain dividers. 
Cons: Reviewers say it is bigger than expected.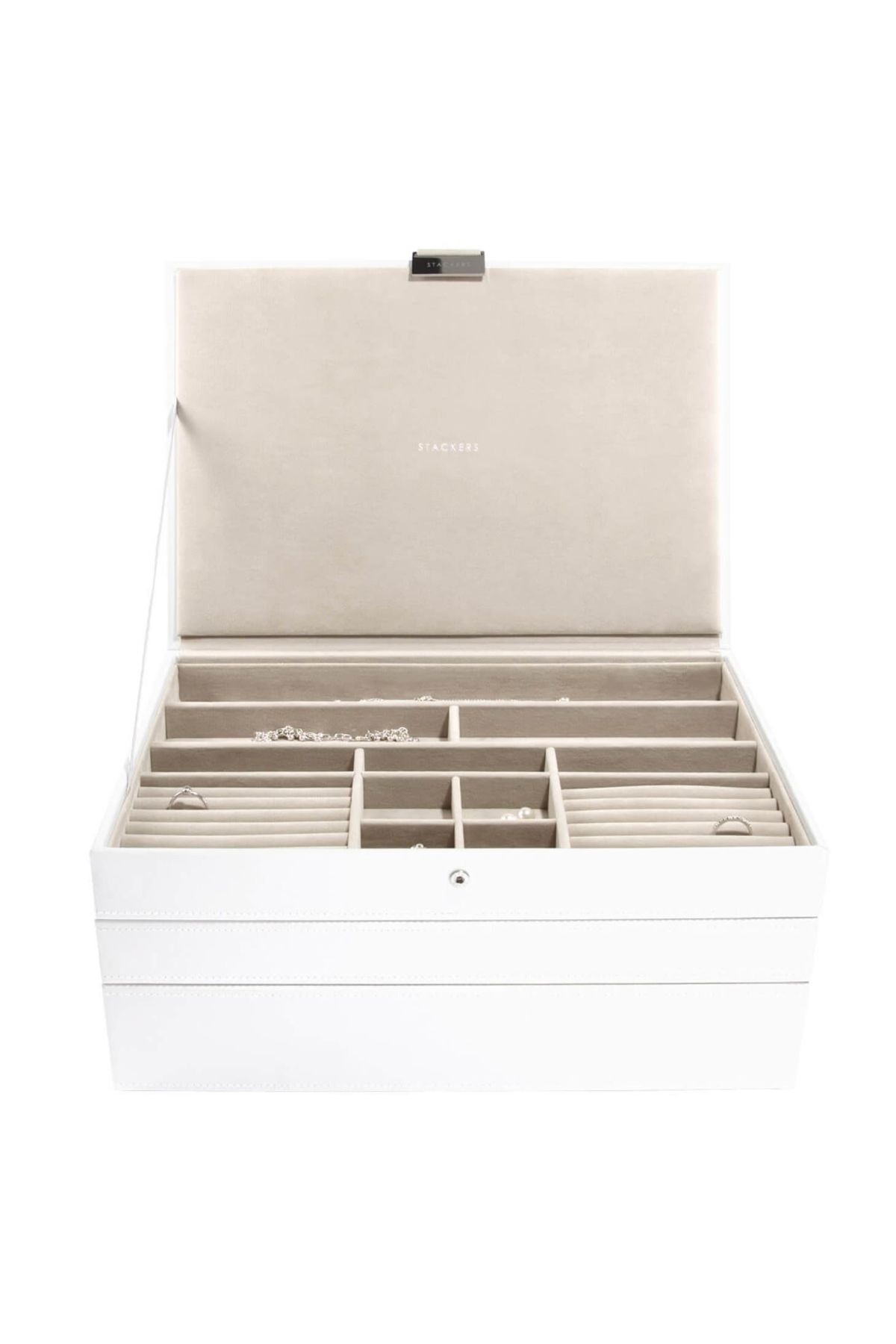 Best Large Jewelry Box
(opens in new tab)
Stackers White Supersize Jewellery Box
Sometimes, it can be incredibly helpful to see your entire jewelry collection at once when getting dressed, especially if your jewelry collection is on the large side. This jewelry box is made up of three stackable trays, meaning you can lay them all out for easy viewing. Each tray is divided into separate compartments, with one tray dedicated especially to earrings and other small trinkets. Herrero says this is similar to the box she keeps her personal collection in. 
Pros: Lined in velvet; Stackable design; Has separate compartments for rings, necklaces, earrings, and bracelets; Available in five colors. 
Cons: Layers do not attach securely.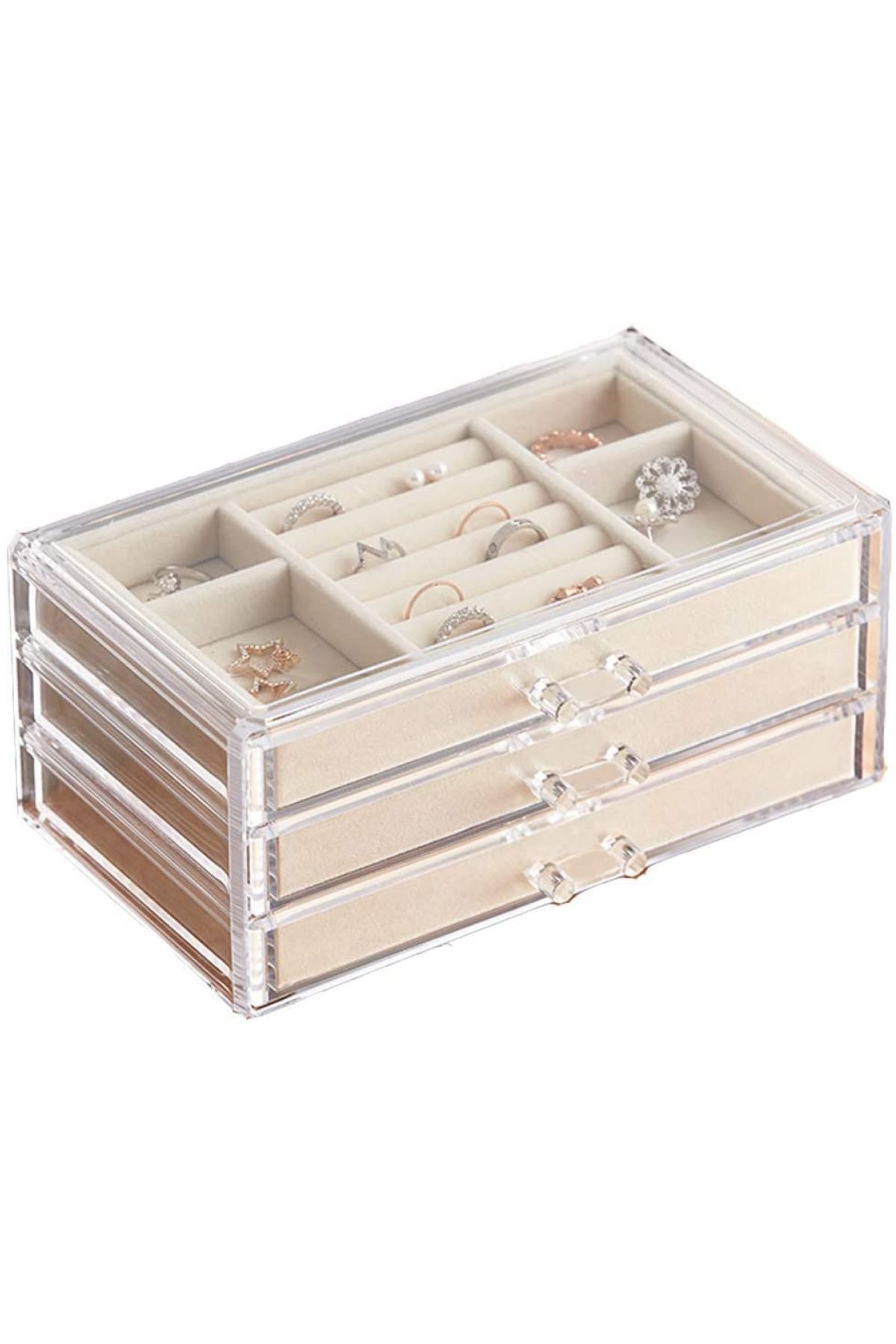 Best Jewelry Box on Amazon
(opens in new tab)
HerFav Acrylic Jewelry Organizer Box with 3 Drawers
If you're all about aesthetics, you don't want a large, bulky jewelry box throwing off your decor. Instead, opt for this dainty acrylic box. It'll house all of your favorite pieces, which you can put on display in the see-through top portion, in style. You can also pull out each drawer to see your entire collection all at once. You can't go wrong with its $24 price tag either, just make sure you leave this box out of direct sunlight. 
Pros: Lined in velvet; Stackable design; Has separate compartments for rings, necklaces, earrings, and bracelets;
Cons: Can exposure jewelry to sunlight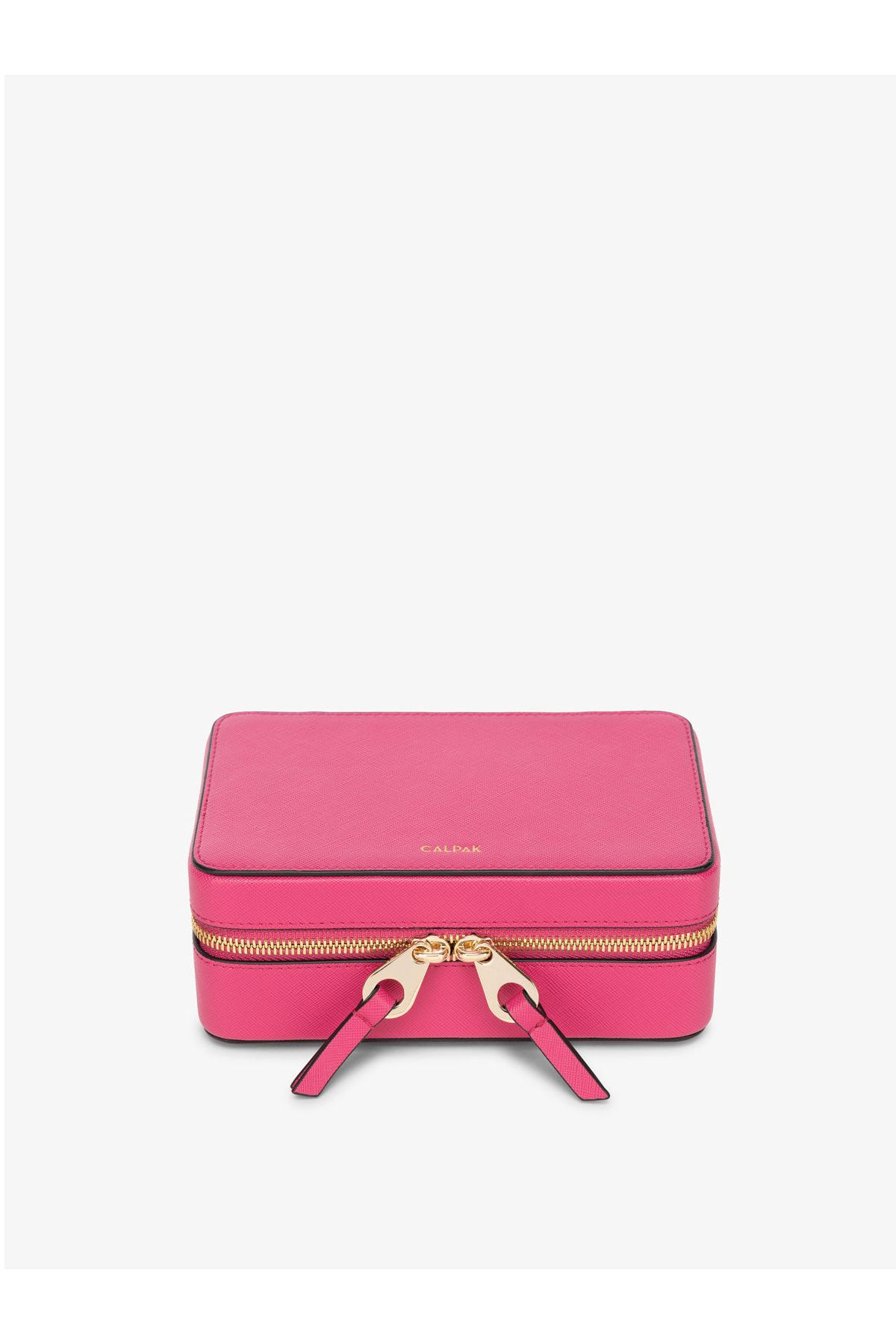 Best Compact Jewelry Box
(opens in new tab)
If you've ever opened your carry-on to find that your jewelry has been strewed about everywhere, you absolutely need a travel case in your life. This adorable case features snap tabs to keep your rings and necklaces secured and (more importantly) untangled, and has a large faux suede drawstring pouch for your other pieces. The pouch also contains more pockets for organizing, plus this case comes with a 28-hole matching card for your earrings. Never again will you have to travel with jewelry in plastic baggies. 
Pros: Lined in faux suede; Comes with earring card; Features snap tabs for necklaces and rings; Available in 10 colors
Cons: Limited storage.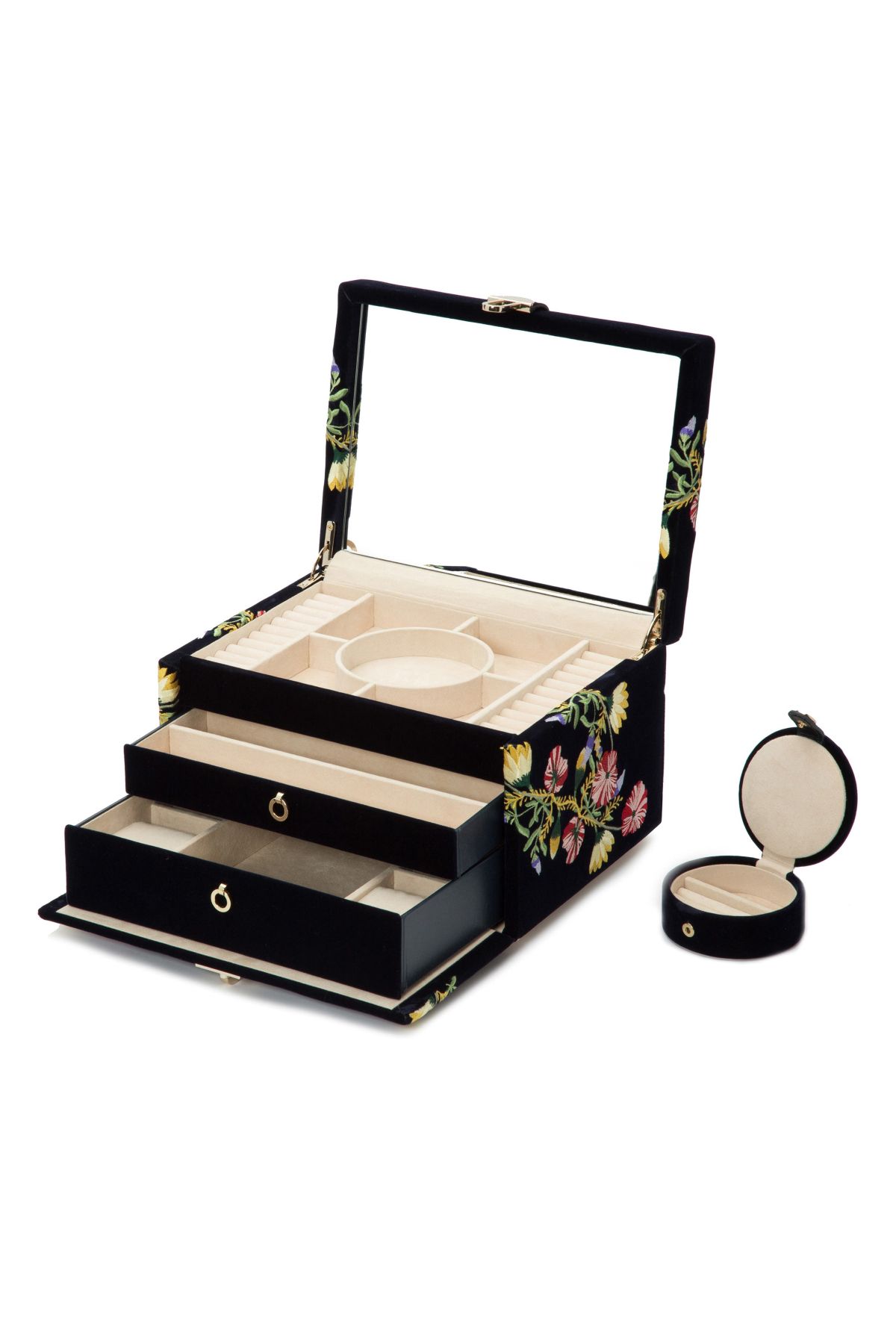 Best Decorative Jewelry Box
(opens in new tab)
WOLF Zoe Medium Jewelry Box
For a jewelry box that's as beautiful as your favorite pieces inside it, this organizer deserves a spot on your dresser. With gorgeous velvet and embroidered florals on the outside, this jewelry box is as much of a piece of décor as it is storage. The inside proves to be incredibly functional, too, with separate compartments for rings, necklaces, and earrings. It's also lined in innovative LusterLoc lining to absorb hostile natural gases that can cause tarnishing, plus it comes with a matching travel case!
Pros: Comes with travel jewelry box; Has separate compartments for rings, necklaces, earrings, and bracelets; Comes with built-in mirror; Lined with anti-tarnish material.
Cons: Over $500.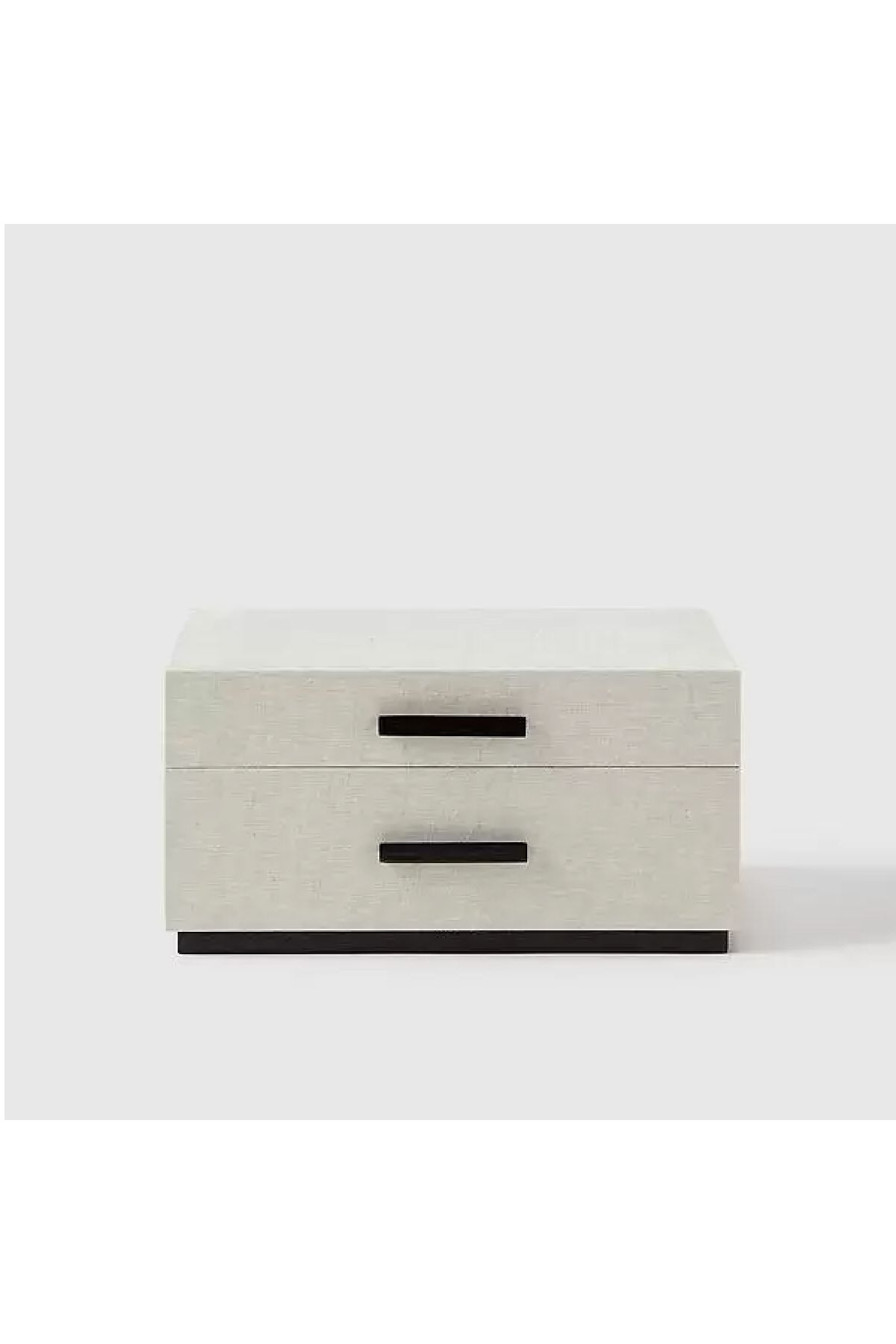 Best Minimalist Jewelry Box
(opens in new tab)
Marie Kondo 2-Drawer Linen Jewelry Box
Created by the queen of organization herself, Marie Kondo has made the jewelry box of minimalists' dreams. With an ultra-chic design, this box won't draw any attention away from the rest of your decor. It features 41 compartments of all shapes and sizes to house all of your accessories. The bottom drawer also has a removable tray for easier access. 
Pros: Lined in linen; Has separate compartments for rings, earrings, and bracelets; Reviewers note its durability. 
Cons: No separate space for necklaces. 
How to Store Jewelry
Now that you've got a jewelry box lined up, don't just throw your pieces in willy-nilly. Follow these tips to ensure your jewelry lasts a lifetime because, as Herrero recommends, "Let's give our pieces the same love when we store them as when we wear them." 
Always keep your items separated: "Separating the jewelry from each other will prevent any unwanted scratches to your pieces and stones," explains Herrero. 
Avoid humid areas: Humidity and moisture can lead to your jewelry tarnishing, so it's best to keep your jewelry in a dry place.  A homemade sachet can also ensure your jewelry stays dry and they are easy to make. Herrero says, "Fill a clean piece of cloth with two handfuls of rice, add a few drops of lavender or rose hip essential oil, use a string to wrap the bundle, and place it here and there for results." 
Close your necklace clasps before storing: It may sound like a no-brainer tip, but it'll work wonders for keeping your necklaces untangled. 
Avoid direct heat and sunlight on your jewelry storage: Try to keep your jewelry box and pieces away from the sun and heat. "Heat can remove natural moisture in gems and affect their durability and color in the long term," says Herrero. 
Clean your jewelry before storing: It doesn't need to be an extensive cleaning—a gentle wipe down using a microfiber cloth will remove any unwanted dirt and natural body oils from your jewelry, ensuring they will last. 
Meet the Expert
Isabel was born and raised in the Caribbean on the island of Puerto Rico. After leaving the island to pursue her architecture and fine arts degree, she started traveling the world. By experiencing other cultures, she gained a deeper appreciation of the richness of her roots.
The desire to celebrate her Caribbean identity began to shape her as a jeweler and artist. Her jewelry reminds her of the place she calls home and the person she has become. Her collections are her intimate way of sharing the essence of the Caribbean. With every one-of-a-kind piece made, she believes to be closer to that tropical air from where she gets inspired. She wishes her brand to speak of that Caribbean spirit she treasures so deeply. She has left her life as an architect and interior designer and devotes herself to her passion for jewelry, a love she inherited from her mother and father, both of whom are passionate advocates of fine jewelry.