The Spring/Summer 2023 Fashion Trend Pieces You Can Buy At Zara
5 min read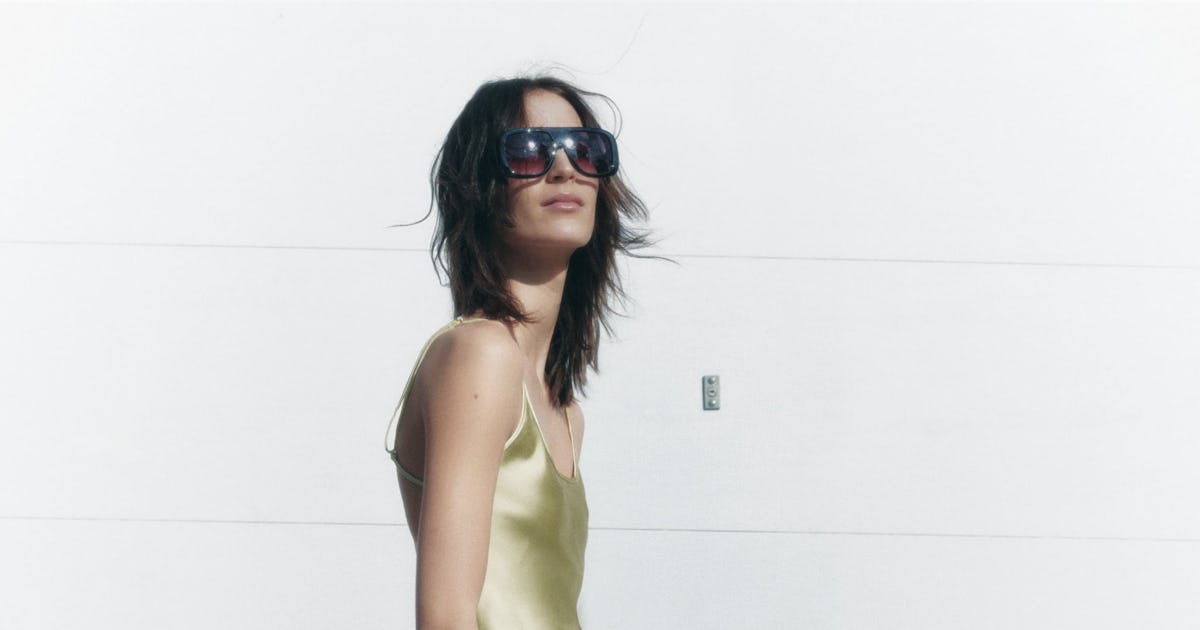 Zara loyalists know the retailer is always the first to carry on-trend items every season. Pop your desired phrase, like "cutout bodysuits" or "puffer pants," into the website's search bar and it'll instantly spit out several affordable options in this category for you to browse through. Given how quickly the brand offers of-the-moment items 365 days a year, it's no surprise then that you can already shop Spring/Summer 2023's top fashion trends at Zara. Head to its "new" page right now and you'll spot runway-approved looks like cargo pants, denim maxi skirts, and lingerie-style dresses.
As you keep scrolling through all the fresh seasonal products, you might start to feel overwhelmed, too, by the amount of items before you. We've been there, so to help you avoid this information overload, we identified 11 key style trends for spring plus the corresponding Zara product to buy if you want to tap into that look. As a spoiler alert, in addition to the aforementioned runway-approved pieces, expect to find a host of crochet tops for the season as well as multiple sheer garments. Clearly, Zara knows what we want and will not hesitate to deliver the trends right to our doorsteps. Take out your credit card and start shopping, ahead.
Lime Green
Pastel yellows and blues are expected for the warmer months, but deviate from this palette for a second to rock something in a zesty lime green. The shade came in the form of a top and pants set at Collina Strada, as a gown at Aliétte, and as a suit at Sergio Hudson. To sum it up: lime green is a versatile hue that works on any garment.
Crochet
Crochet emits tropical vacation vibes, which is why this material will never go away in summer collections — just take a look at the Gabriela Hearst runway. Instead of purchasing a top or dress in the classic, tightly knitted style, look for pieces crafted from loose, cobweb-like weave work.
Maxi Skirts
For those who aren't keen on adopting the miniskirt look, find relief in this season's trending maxi silhouette. The style appeared on the Jil Sander, Peter Do, and Tibi runways. You can tell everyone's after a denim maxi, especially based on how quickly the pieces are selling out across every retailer.
Statement Earrings
When your outfit needs that extra zhuzh, just clasp on a pair of statement earrings. This larger-than-life accessory paired perfectly with the more minimalist looks at Tory Burch, Proenza Schouler, and Louis Vuitton. Should you need more convincing that this is a hot look for spring: Kate Middleton recently embraced this earring trend at the 76th British Academy Film Awards.
Ballet Flats
You can thank Miu Miu for spearheading the revival of ballet flats in our wardrobes. For spring, designers like Simone Rocha and Sandy Liang all agree, too, that this is the shoe to buy. The popular choice is a simple satin pair akin to the ones in Miu Miu's Fall/Winter 2022 collection, but if you want a more unexpected style, check out Simone Rocha's flat meets sneaker hybird.
Sheer
The sheer dressing trend isn't for everyone, but if this is the season you decide to hop on board with the look, you're in luck. Across every retailer, including Zara, you'll find a gauzy, see-through dress or transparent blouse option to satisfy your shopping desires.
Relaxed Denim
Skinny pants might be coming for its baggier, roomier cousin in Fall/Winter 2023, but for the next few months, you still have time to wear all the relaxed denim bottoms your heart desires. Rest assured that slouchy jeans won't suffocate and stick to your perspiring skin like a pair of skinnies would in the warm weather.
Shimmery Silver
You can always expect metallic silver to pop up in autumn collections as everyone looks for that NYE party piece. However, this shade bubbled up all over the Spring 2023 runways, including Cecilie Bahnsen, Givenchy, and Altuzarra. If you feel apprehensive about wearing this hue, work it into your accessories first.
Cargo-Inspired
Every fashion girl is after a pair of cargo pants for spring, so it's no surprise Zara has several pairs in stock to keep up with this shopping frenzy. Don't play it safe by opting for bottoms in khaki or olive green hues, instead go for a Barbie pink shade that exudes cheerful, warm-weather vibes.
Bra Tops
Bra tops popped up across Area, LaQuan Smith, Adam Lippes, and the Michael Kors Collection runways, which signals that the trend is still strong for spring 2023. For those who can't embrace the skimper, strappy styles, start out with a design that offers more coverage. The Chenille Bralette from Zara, below, will help you ease into the trend.
Goth Girl
The Wednesday Addams effect coupled with collections like Versace's Spring/Summer 2023 and Rodarte's Fall/Winter 2023, which both gave nods to the goth girl, keeps your desire for moody pieces going. This season, tone down your floral dresses with an inky black leather trench or layer it over your other dark-hued pieces.